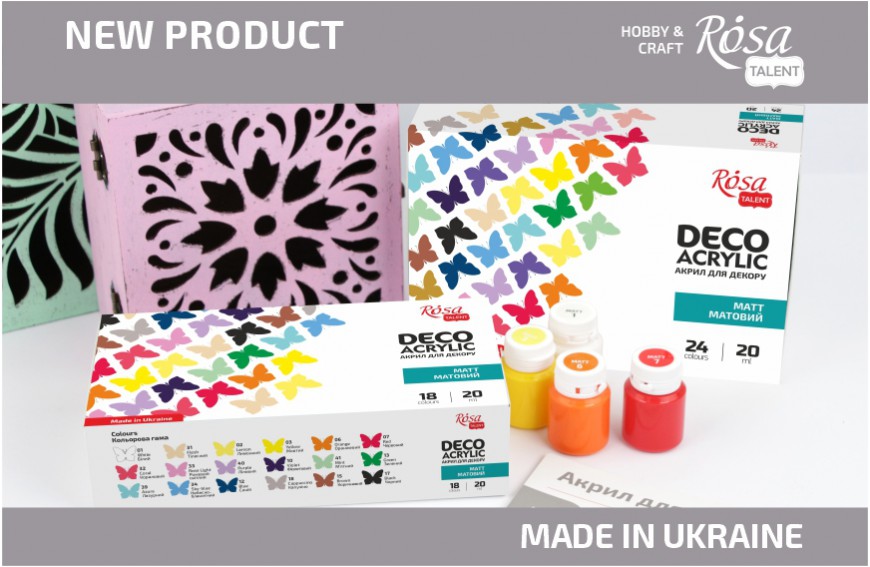 Great news for you! We have new sets of acrylic paint for decoration from ROSA TALENT of 18 and 24 colours!
Extended colour palettes of the sets include classic and special colours. In order to find a unique colour, you do not need to experiment and mix paints for a long time - just choose one from the set.
New extended sets of acrylic paint for decoration ROSA TALENT are a real find for beginners, those who want to try their hand at the technique, but can't decide on the colours, as well as for creative activity with children.
And this is also more than a good gift for a decorator - a bright stylish packaging filled with a variety of colours of high-quality acrylic paint for decoration! How easy it is to create a good mood for a master ...

Acrylic paint for decoration from ROSA TALENT combines properties that make the work of a decorator easy and pleasant:
• Creamy consistency ensures even applying
• High covering power makes it easy to paint over the surface
• Colours are ideal for shabby chic, vintage, provence and classic styles.
Acrylic paints can be diluted with water, and colours can be mixed with each other, getting new shades. Over time, paints retain their vibrant colours.
Acrylic for decoration is equally well applied to surfaces made of wood, plywood, fiberboard, MDF, paper, cardboard, primed canvas, natural stone, and brick.
After drying, the paint forms a matte velvet indelible film, which allows the decorated things to be used in everyday life. We recommend covering items that are constantly used with a water-based varnish for additional protection.
New sets of acrylic paint for decoration from ROSA TALENT - even more colours to embody creative ideas!