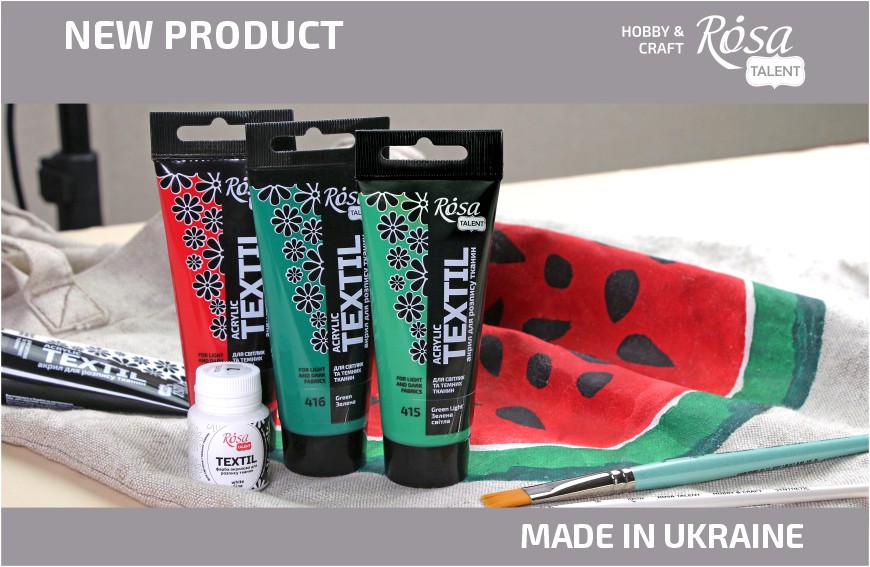 We have some good news for you! Double novelty from the ROSA company!
From now on, the entire palette of acrylic paints for fabric from ROSA TALENT is in a convenient 60 ml plastic tube + 15 new shades that harmoniously complement the palette:
Vanilla, Yellow Light, Sand, Red Light, Bordeaux, Peach, Lilac, Purple Dark, Blue Vintage, Denim, Turquoise, Green Vintage, Olive, Chocolate, Gray.
What are the advantages of fabric paint in a tube compared to a jar?
• The paint is squeezed out of the tube immediately without unnecessary losses;
• No need to use additional tools in order to get the required amount of paint;
• The paint in the tube remains "clean"
• The tube closes securely, so the paint retains its original consistency for a long time;
• Convenient to transport.
60 ml is a volume of paint that is perfect for professional artists who use paint constantly and those who plan to paint large areas (clothes, bags, pillows).
From now on you can combine your palette by choosing a convenient container: choose the main colours in a tube, and additional in jars of 20 ml.
ROSA TALENT water-based acrylic paints are ideal for painting on light and dark fabrics of various compositions, including leather and suede. They are elastic after drying and do not thicken the fabric excessively. Due to the high pigment content, the paints have saturated and bright colours that mix well with each other, forming new desired shades. Due to the uniform consistency of the paint, they spread evenly on the fabric and don't bleed, so it's convenient to paint with a stencil.

Main characteristics:
• Convenient plastic tube
• 40 lasting colours
• Suitable for painting light and dark fabrics due to high hiding power
• Spreads evenly on natural and synthetic fabrics
• Elastic after drying and does not thicken the fabric excessively
• Paint can withstand hand and machine washing in the appropriate mode
Acrylic paints for fabric from ROSA TALENT are high-coverage, due to which any colour looks saturated, both on light and dark fabric. If you want to achieve the effect of "transparency", the paint should be thinned with a medium for acrylic paint on fabric or water.
Soon! 15 new colors of fabric paint in a 20 ml jar!
The ROSA TALENT fabric paint palette in 20 ml will include 45 colors.
Be special - create unique things with ROSA TALENT!