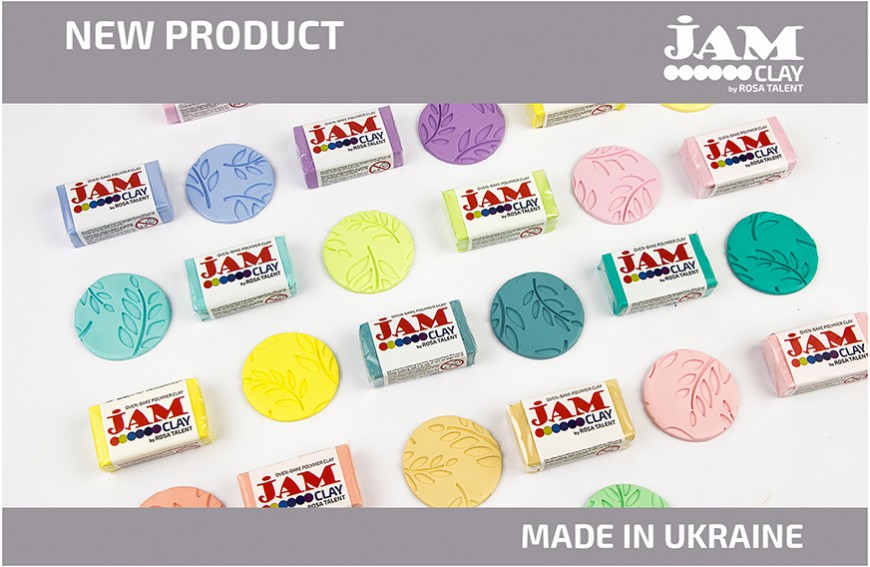 Variety of colours on cloudy winter days from JAM CLAY! 15 new incredibly delicate, pastel, trendy colours of polymer clay JAM CLAY by ROSA TALENT for romantic spring and tender summer decor are already available for order!
Blue sapphire
  Vanilla
    Hydrangea
      Lagoon
    Marzipan
  Mint
Sky blue
  Nephritis
    Peach
      Powder
    Rose quartz
  Sakura
Flesh colour
  Topaz
    Pistachio
Now the palette of polymer clay JAM CLAY by ROSA TALENT has 40 colours! All of them mix well with each other, which allows you to create many new shades, make the colour lighter or darker.

The calm palette of new colours is ideal for romantic, floral motifs and the creation of delicious food-themed products.
Polymer clay JAM CLAY is a wonderful material for creating:
• Unique jewelry and bijouterie: pendants, earrings, rings, bracelets, brooches;
• Decorative items: vases, statuettes, figurines, key chains, bookmarks for books;
• Decorating objects: photo frames, dishes;
• Creation of additional decorative elements for other techniques: scrapbooking, card making, felting
Polymer clay JAM CLAY has the right hardness, retains its shape well, textures well, meets the expectations of professionals. It is easy to knead, can be modeled, it does not stick to hands, which is ideal for beginners and creative activities with children.

Properties of sets of Polymer clay JAM CLAY by ROSA TALENT:
• 15 new delicate pastel shades
• Different colours are mixed with each other, forming new shades
• Clay holds its shape during work
• Soft and elastic clay does not stick to hands
• Easily textured with any texture
• Strong after baking
* It is recommended for children aged 8 years and up
Usage: soften the clay to the desired flexibility and make the creation. Bake in the oven at a temperature of 130 °C for not more than 30 minutes. Do not use a microwave oven. The clay hardens completely only after cooling to room temperature.
Even more creative ideas with the extended colour palette of the JAM CLAY by ROSA TALENT polymer clay!