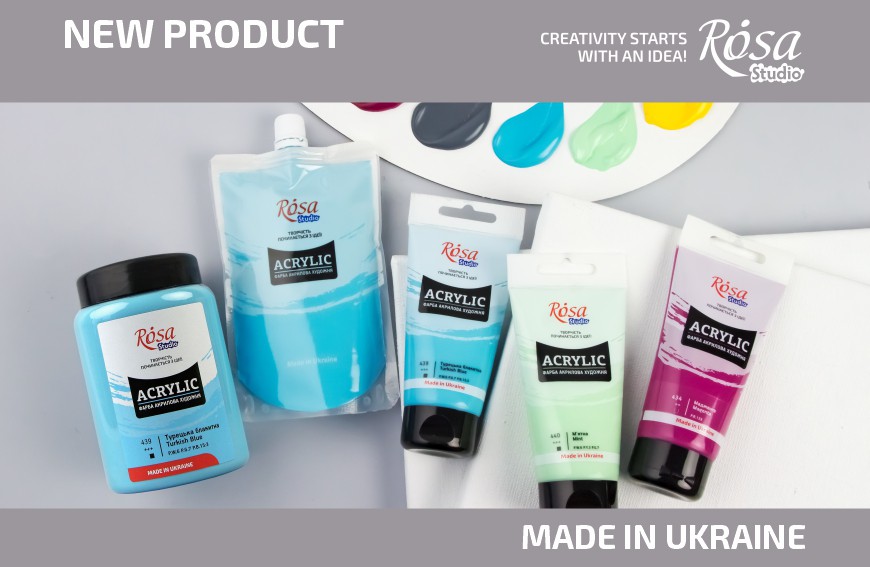 Meet 15 new colours of ROSA Studio artists' acrylic paints in three sizes: 75 ml tube, 200 ml soft pack, and 400 ml jar!
The palette has increased by 50%, from 30 to 45 colours.
New colours complement and enrich the range of ROSA Studio acrylic paints and expand the opportunities of painting.
Basic classic colours:
Zinc white is more transparent than titanium white, designed to create soft tints;
Yellow medium harmoniously complements the range of yellow colours;
Phthalocyanine Blue is the base colour, which allows you to create many new mixtures;
English red is a classic colour used in portraits;
Magenta is a rich, bright colour of the first spectrum, which will help you to get beautiful lilac, purple colours, and shades in mixtures;
Olive is a complex green that complements the range of basic green colours.
Delicate pastels and interesting intermediate colours:
Neapolitan Pink, Peach, Coral, Turkish Blue, Mint, Warm Gray and Yellow Green, Lilac, Dark Gray.

Thanks to the expanded colour palette and creamy consistency, ROSA Studio artists' acrylic paints are ideal for wall painting, they are easily applied onto the surface, and have good adhesion.
Spend more time being creative and less time looking for the right shade, just select it from the palette, which now has 45 colours.
Properties of ROSA Studio artists' acrylic paints:
• The creamy consistency of acrylic paint is ready to work without additional dilution.
• It applies evenly over the surface
• After drying, it forms an elastic indelible film and slight gloss.
• A wide range of types of packaging allows you to choose a convenient size and method of use.
More acrylic colours from ROSA Studio - more opportunities for creative ideas!