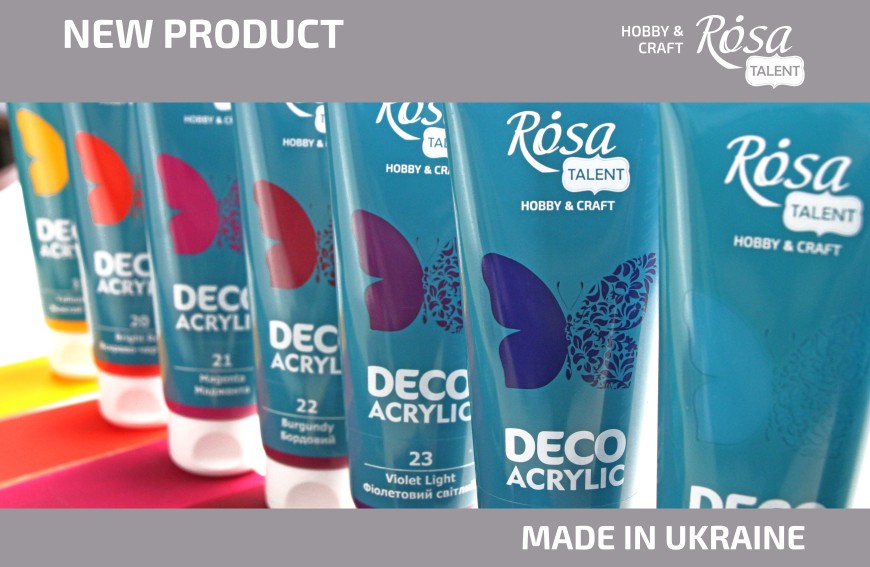 9 new deep and delicate, vibrant, and sober colours in the matt acrylic colour palette for decor ROSA TALENT. Spend more time on creativity and less time on mixing colours and getting the right shade, choose it from 50 colours of the ROSA TALENT colour palette!
Colours that harmoniously complement the ROSA TALENT matt acrylic colour palette are available in 75 ml tubes and 20 ml jars.
• Dark yellow
• Bright red
• Magenta
• Burgundy
• Light purple
• Dark blue
• Dark azure
• Neutral gray
• Warm gray
The colour palette of 75 ml tubes has also been expanded to a full palette, it was supplemented by 9 colours that were previously available only in 20 ml.
• Lemon
• Ocher
• Gold-ocher
• Brown,
• Light yellow
• Coral
• Purple
• Azure
• Chocolate
Now a full colour palette of 50 colours of matte acrylic paint for decor is available in a 20 ml jar and 75 ml tubes.

Acrylic paint for decoration from ROSA TALENT combines properties that make the work of a decorator easy and pleasant:
• Creamy consistency ensures even applying
• High covering power makes it easy to paint over the surface
• Colours are ideal for shabby chic, vintage, provence and classic styles.
Acrylic paints can be diluted with water, and colours can be mixed with each other, getting new shades. Over time, paints retain their vibrant colours.
Acrylic for decoration is equally well applied to surfaces made of wood, plywood, fiberboard, MDF, paper, cardboard, primed canvas, natural stone, and brick.
After drying, the paint forms a matte velvet indelible film, which allows the decorated things to be used in everyday life. We recommend covering items that are constantly used with a water-based varnish for additional protection.