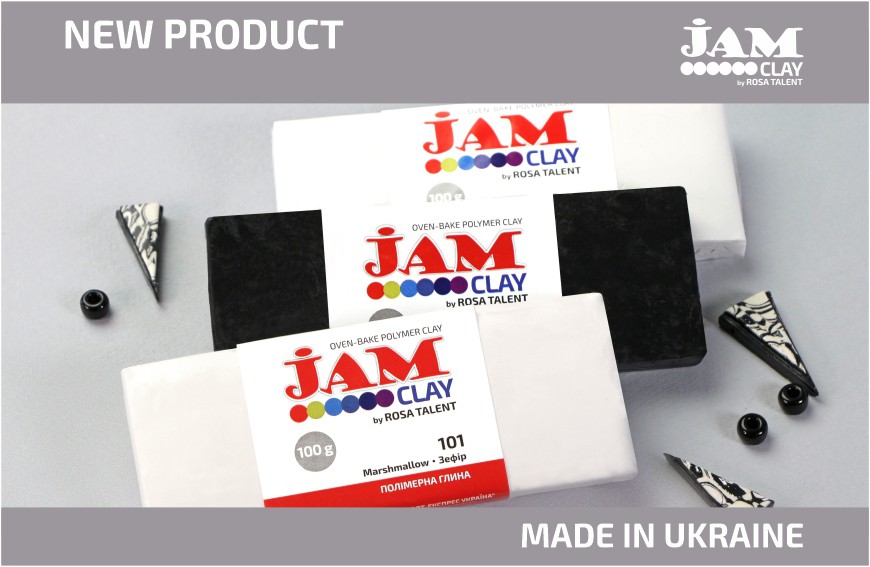 Now the main colours of polymer clay JAM CLAY by ROSA TALENT - black and white are available in a large size - 100g. This packaging is convenient for professional craftsmen who use a significant amount of material and produce a lot of products and for beginners who create large-sized products.
Polymer clay JAM CLAY is a wonderful material for creating:
• Unique jewelry and bijouterie: pendants, earrings, rings, bracelets, brooches;
• Decorative items: vases, statuettes, figurines, key chains, bookmarks for books;
• Decorating objects: photo frames, dishes;
• Creation of additional decorative elements for other techniques: scrapbooking, card making, felting
Polymer clay JAM CLAY has the right hardness, retains its shape well, textures well, meets the expectations of professionals. It is easy to knead, can be modeled, it does not stick to hands, which is ideal for beginners and creative activities with children.
Properties of polymer clay JAM CLAY by ROSA TALENT:
• Black and white colours in packing of 100g;
• Different colours are mixed with each other, forming new shades;
• Clay holds its shape during work;
• Soft and elastic clay does not stick to hands;
• Easily textured with any texture;
• Strong after baking.
* It is recommended for children aged 8 years and up
Usage: soften the clay to the desired flexibility and make the creation. Bake in the oven at a temperature of 130 °C for not more than 30 minutes. Do not use a microwave oven. The clay hardens completely only after cooling to room temperature.