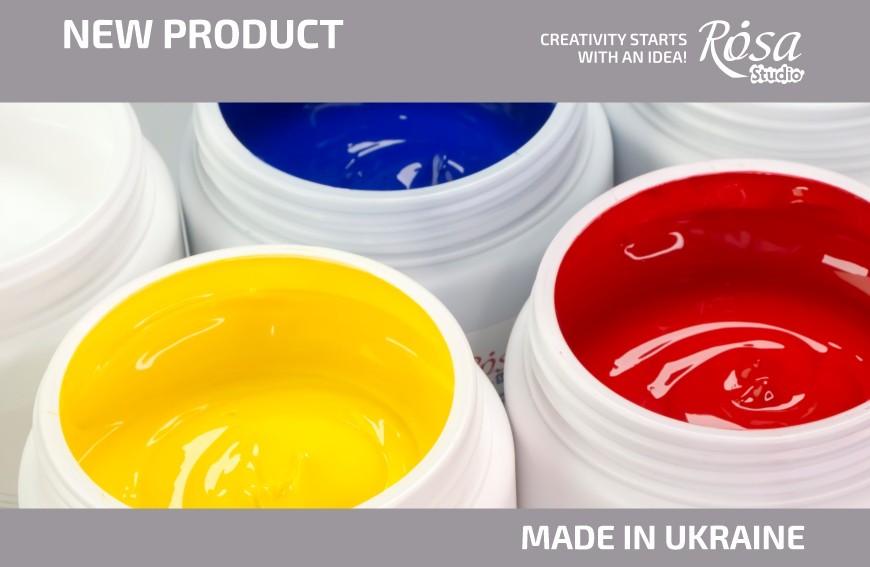 4 colours of ROSA Studio acrylics, most in demand by artists, are now also available in large size of 1000 ml.
1000 ml is an ideal option when large volumes of paint are needed: for art studios, educational institutions, master classes, and, of course, for artists who paint walls or create large-scale paintings.
From now on, in 1000 ml cans, in addition to white paint, you can buy the other 4 main colours of ROSA Studio acrylics.
• 409 Yellow
• 402 Ultramarine
• 405 Red
• 403 Black

ROSA Studio acrylic paints are made of high-quality organic and inorganic pigments, finely ground, and based on modern acrylic dispersions. The creamy consistency of the paint is ready to work without further dilution. After drying, the paint forms a durable elastic film with a slight gloss.
Кеу properties:
• 5 basic colours in a volume of 1000 ml;
• It is spread evenly over the surface;
• Good coverage;
• After drying, it forms an elastic, indelible film with a light shine.

The most popular ROSA acrylic is available in a palette of 45 colours and a wide range of sizes: 20 ml in sets, 75 ml in tubes, 200 ml in softpacks, 400 and 1000 ml in cans. Choose according to your needs and methods of use.