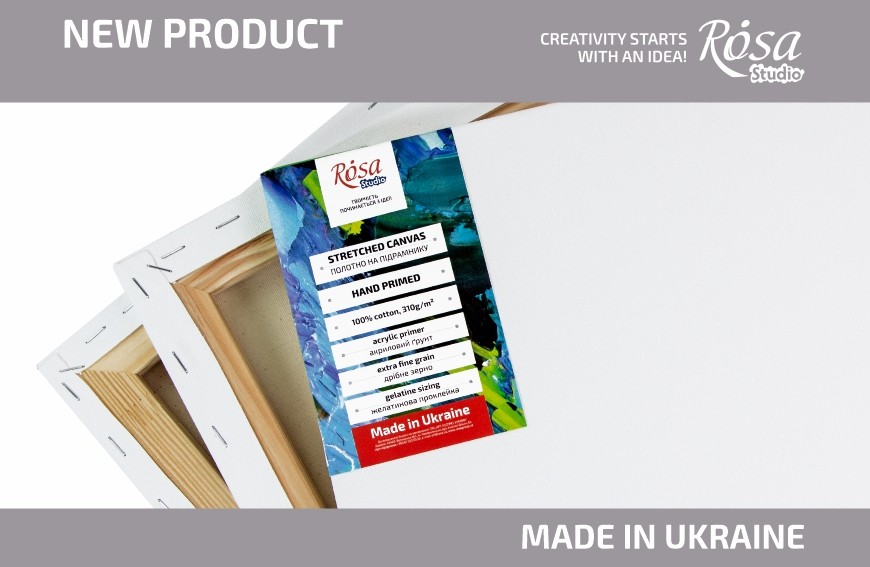 Already familiar to you ROSA Studio Stretched Canvases now with gallery stretch*! New Stretched Canvases have significant advantages, but their cost remains unchanged.
Now ROSA Studio Stretched Canvases look more aesthetically pleasing, the staples are not visible in the updated product, as they are placed on the back. This method of mounting makes it possible not to use a baguette frame and continue the picture on the end of the stretcher bar.
ROSA Studio stretched canvas is made of pure fine-grained cotton canvas primed by hand, stretched on a modular stretcher made of fingerglued pine. durable sizing are applied to the cotton canvas in order to prevent paint from penetrating to the back side and are primed with own production acrylic primer, which forms a strong flexible film once dry.
Primed canvases with acrylic primer are a universal base for oil and acrylic paints, pastels.

The main properties of ROSA Studio Stretched Canvases:
•  100% cotton, fine grain, 310g/m²
•  Universal acrylic primer
•  Elastic sizing
•  Modular stretcher bar
•  Gallery way canvas stretch
•  Sizes from 15x15 to 60x80

ROSA Studio Stretched Cotton Canvases is a full-fledged basis for painting, which due to the use of a thinner module and fewer layers of primer is more attractive in price. It is an ideal option for art school students, students, decorators and beginner artists.

* There are remains of stretched bar with side tension on the drain, they will be replaced gradually with gallery tension, depending on the end of the remains.