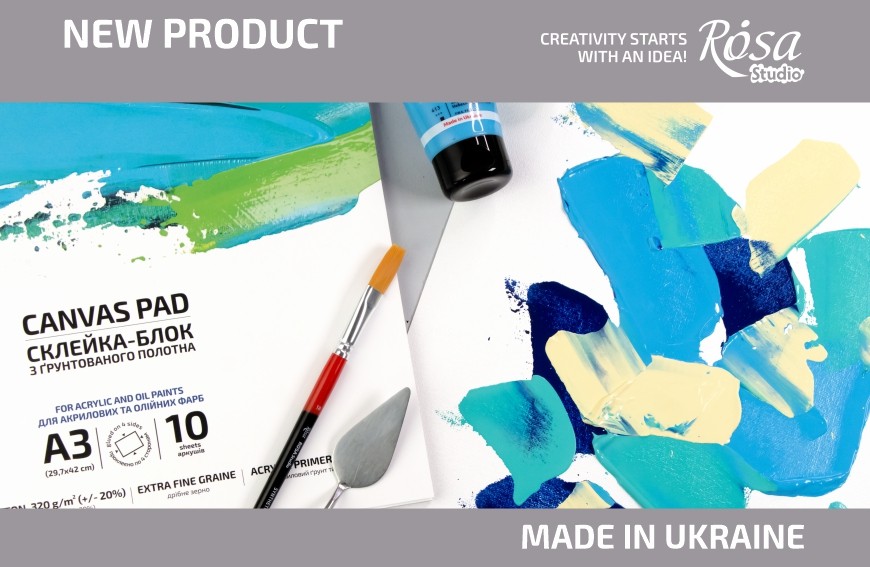 We are glad to present to you a new product in the ROSA assortment - ROSA Studio block made of primed cotton canvas suitable for oil and acrylic painting! An ideal choice for sketches and work in the open air and study.
Made of natural cotton canvas with manual priming, the block allows you to experience the advantages of working on a specialized artistic base for painting. Acrylic primer is universal and opens up opportunities to work with all types of paint and even pastels. The sheets of the canvas block are firmly glued on 4 sides and securely fixed on a strong cardboard base. This ensures the optimal tension of the canvas and protects it from deformation.
The cardboard base allows you to work directly with the block or place it on a sketchbook or easel. It is easy to remove the finished painting with a palette knife or a plastic card.
If you plan to stretch the work later on the stretcher, leave the unpainted areas around the perimeter in advance.

Main properties:
• 100% cotton, fine grain, 320g/m2;
• Acrylic primer;
• Block is glued on 4 sides;
• The base is thick cardboard that serves as a board;
• Paper cover;
• 10 sheets;
• A3 size.
Canvas block from ROSA Studio is a real catch for:
• artists working in the open air. Canvas blocks will save space when traveling.
• students who regularly practice, hand in their work, and don't want to spend a lot of money on study materials.
• amateurs and beginners who are making their first attempts at painting and want to try painting on a real canvas.

Compactness, a thick base, and a high-quality canvas with an acrylic primer make the canvas block from ROSA Studio convenient for transportation and usage.