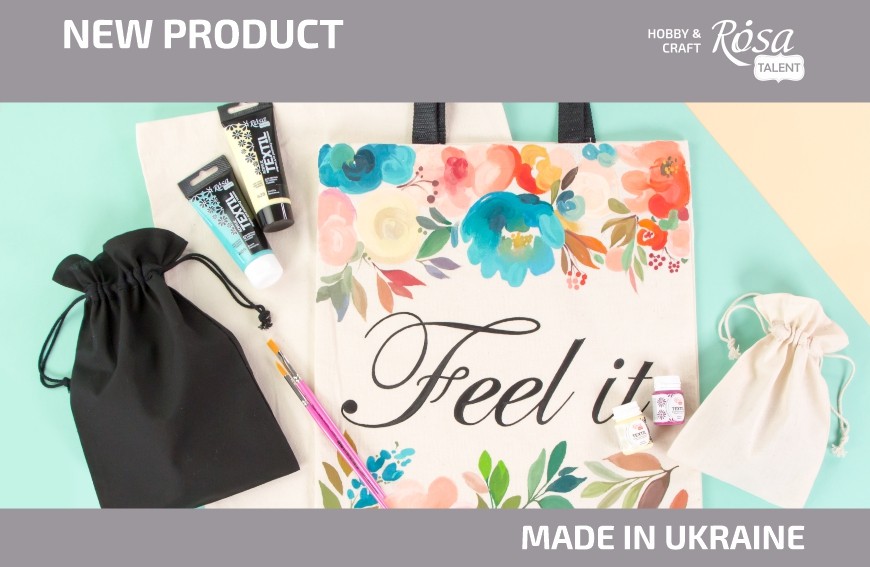 A large selection of shapes and sizes of textile blanks from ROSA Talent is an indispensable product for decorators who paint textiles and a find for housewives who like to organize their home space wisely.
Textile blanks made of cotton are painted with acrylic fabric paints, decorated in various techniques: decoupage, marbling, contour drawing, using stencils, stamps for block printing, thermal stickers or hot fix rhinestones.
Cotton bags in three sizes and 2 colours (black and white) with drawstrings for tightening or tying are a great option for eco-friendly coarse calico packaging. They are suitable for packing bulk food, shoes, ethnic-style gifts, and storing various trinkets. Easy to wash, hypoallergenic, durable, and dense. A good option for traveling - everything you need will be neatly placed in a travel bag.
Eco-friendly bags are made of cotton of two models: bottom gusset tote bags and flat tote bags. Flat tote bags have long handles in two colours to choose from: black and white. It's hard to imagine a modern person without a convenient, spacious shopper bag because it's not only stylish but environmentally friendly, just imagine the amount of plastic bags you are going to stop using. Colour the shopper bag according to your style and enjoy a comfortable shopping trip.
Eco-twill backpacks with comfortable rope straps can be used as a shopper bag, a gym bag, or for a change of shoes. This backpack looks especially impressive in ethnic style - use stamps for block printing of the "Botany" series or stencils of various ornaments to apply the pattern. Decorate the backpack in your favorite colors and motifs - be unique!

Main properties:
• Made of thick, dense cotton
• Strong seams, fabric tight handle, reliable machine bar tack on the handles
• The density of the fabric helps to withstand heavy loads and keep its shape
• Various types and sizes of textile blanks
Shopper bags, backpacks and bags decorated at your own discretion can serve as an integral and stylish element of your wardrobe or an exclusive gift.