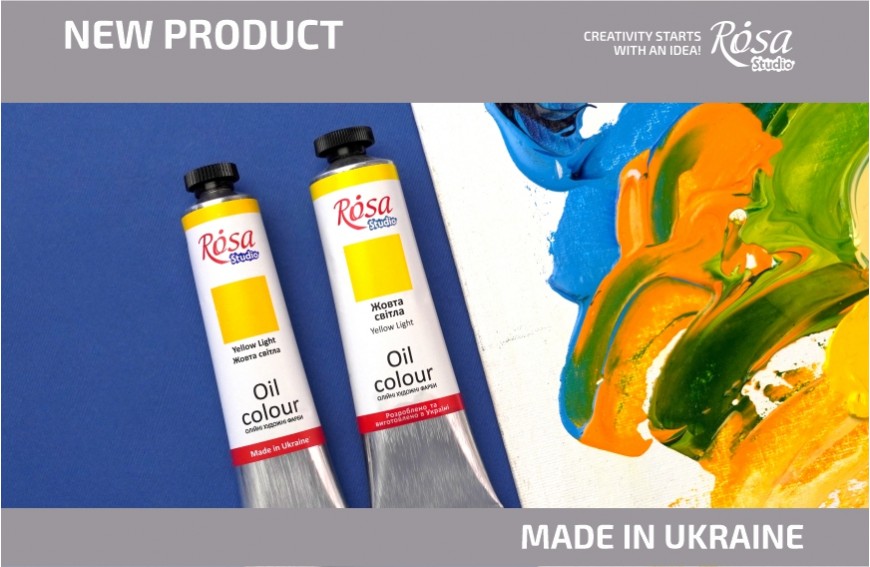 Please be aware of important changes in the tube size in the line of artistic oil paints ROSA Studio. The new smaller size of 45 ml product at a more attractive price will allow you to choose more colours for the same price. Such a change will be a convenient solution for new and regular users of ROSA Studio oil paints.
From now on, the entire colour palette of ROSA Studio oil paints will be produced in a size of 45 ml, instead of 60 ml. The replacement will be gradual until the remaining 60 ml paints are sold out in stores across Ukraine.
These paints are produced with the use of polimerized lin­seed oiland have pure colours and naturalbrilliance. The colours are carefully selected оn the basis of classical art methodology. Creamy consistency of ROSA Studio colours allows artists to use paints undiluted. Paints have an accelerated drying time (up to 3 days in a thin layer), which makes it possible to complete the work faster.
Key properties:
• 31 saturated colors
• Creamy consistency allows you to work with paint immediately
• Opaque colours prevail in colour range
• Fast drying period is 3 days approximately (in thin layer)
• Retain natural shine after drying
ROSA Studio oil paint palette consists of 31 colours in a volume of 45 ml, 5 colours in a volume of 490 ml, as well as sets of paints for 12, 18 and 24 colors of 20 ml each. Choose according to your needs and methods of use.
Art oil paints ROSA Studio are designed and manufactured in Ukraine. High-quality raw materials, professional approach and modern specialized equipment guarantee uncompromisingly high quality products.
Smaller sizes of paint tubes are convenient for transportation. Now you can fit more of your favorite colours in your bag for plein air painting!