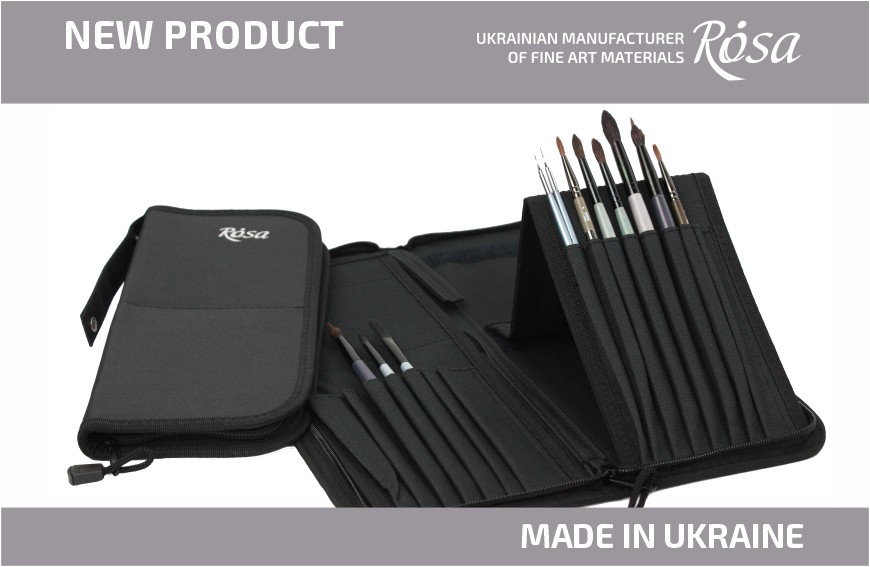 NEW! ROSA Gallery brush holders are a great option for storing and carrying brushes. They are convenient for the arrangement of all needed artist's tools: brushes, pencils, liners, markers.
The main feature of ROSA Gallery brush holders is their design. In addition to convenient storage and transportation of brushes, the holder with the help of a button and a hook and loop closure can be easily transformed into a stand to hold your brushes while you work
We present 2 types of brush holders:
• Brush holders with a short handle for 16 items, size: 28x28 cm.
• Brush holders with a long handle for 15 items, size: 30.5x38 cm.

ROSA Gallery brush holder cases are made of durable synthetic fabric, which ensures their durability and convenience during the work. Brushes are securely fixed inside the brush holder, thanks to individual loops. The hard-cover holds the shape of the brush holder when carrying and protects the brushes.
Key features of ROSA Gallery brush holders:
• Hard-cover is a reliable fixation of the brushes inside ensures the protection of the brushes.
• Durable, dense fabric.
• Convenient and thoughtful design protects brushes and serves as a holder while you work.
• Zipper and high-quality loops securely fix the brush inside.

ROSA Gallery brush holder is a necessary accessory for professional artists, students, and art school learners. Just choose the needed size that fits the length of your brushes.
This product is available in this range: