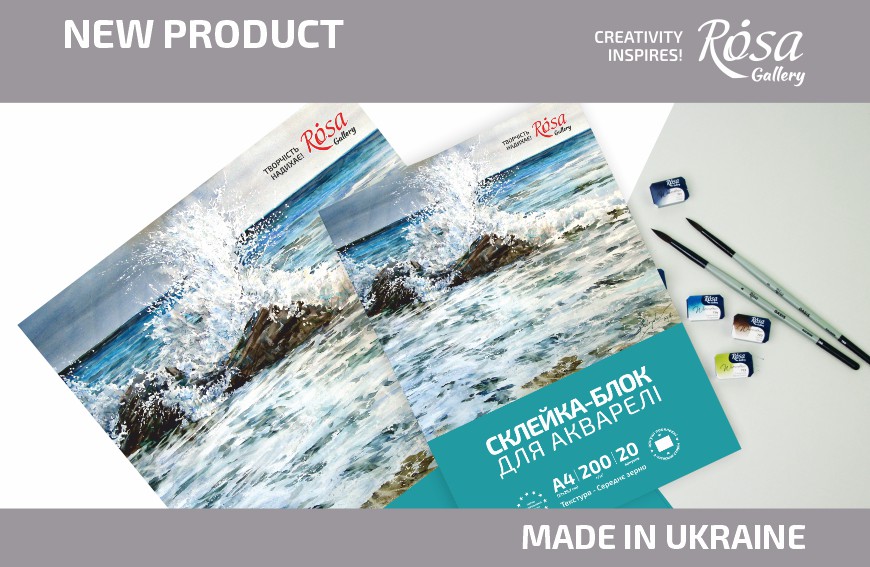 We are glad to introduce you to a watercolor novelty from ROSA Gallery - watercolour pads in three sizes! High-quality Italian Fabriano paper, reliable side gluing, stylish and simple clean design of watercolour pads. It's a perfect choice for a professional artist and a great idea for a gift to a friend-watercolorist.
Get inspired by the painting of the talented Ukrainian artist Bobryshev Oleksandr "Wave Splash", which decorates the cover of a new watercolour pad.
ROSA Gallery watercolor pads:
• A3 - glued on 4 sides;
• A4 - glued on 4 sides;
• А5 - glued on 1 side.
ROSA Gallery Watercolour Pads consists of medium grain watercolour paper by Fabriano, with a weight of 200 gsm and 25% cotton, which is suitable for all basic watercolour, gouache techniques, pencil and liner works. The medium-grained texture of the paper highlights the watercolor character of the artwork.



Special sizing of paper promotes a smooth flow of colours and allows you to achieve amazing transitions between shades. Durable gluing of the sheets on 4 sides, in the A3 and A4 sizes, provides their optimum tension and keeps paper from deformation even when working in technics on wet. This connection of the paper allows you to work without the use of additional fasteners, moisture from the worksheet does not get onto other sheets.
Properties of ROSA Gallery watercolors pads:
• High-quality Italian medium grain paper Fabriano Watercolour;
• Bumpy texture of the paper creates a watercolour character of the work
• Reliable side gluing;
• The basis of the pad is made of a solid cardboard base;
• Standard sizes for large works and for small drawings, sketches
• Stylish simple clean design with a picture of a professional Ukrainian artist on the cover.
Due to the base of solid cardboard, watercolour pad is a modern alternative to the sketch-board, which is especially convenient for drawing in the open air or sketches. High-quality paper, ease of transportation, ease of use.
Convenient and comfortable painting process with materials from ROSA Gallery in the wonderful world of watercolour!