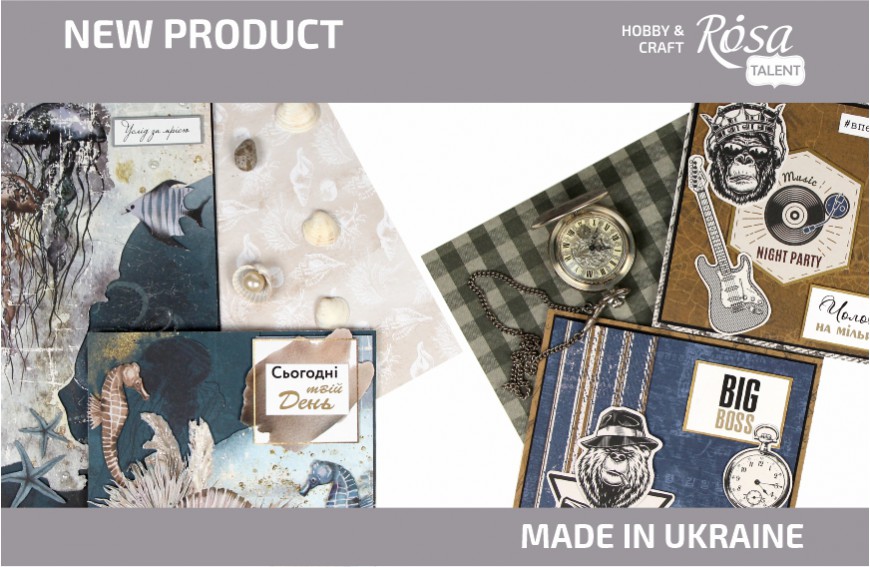 Hot summer is the time for hot new products!
We present new series of ROSA TALENT designer paper A4 size:
• Double-sided matt paper "Ocean Dreams" - 16 motifs by piece and in a set. The background paper with a combination of sand and sea colours, various marine life, algae, shells, starfish - a relevant marine theme for the vacation period. Paper products in the style of "Ocean Dreams" will keep warm memories of an unforgettable vacation!

• Double-sided matt paper "Men Style" - 16 motifs by piece and in a set. Restrained, muted tones of paper for creating products for real men. Ties and motorcycles, chess and guitars - stylish elements will emphasize and complete any greeting card, a bachelor party invitation, a themed scrapbook, a notepad, a chest of drawers, or a chest.

Each series has background pages, pages with the main characters around which you can create a plot, and cut-outs in accordance with the theme, which will help to form the central composition.
Black and white scrapbook elements can be painted over with gel pens in the selected colour and style.
ROSA TALENT double-sided designer paper A4 size is used in scrapbooking and cardmaking techniques, as well as for making boxes and gift wraps of various sizes. Interesting contemporary designs, the noble matte surface of the designer paper is suitable for works of different difficulty levels. Optimum density - 200 g/m² - makes it easy to give it the desired shape, it does not crack during creasing and folding.
• One-sided paper Phrases and Inscriptions in male's themes - 2 sheets in Ukrainian and Russian. Accurate inscriptions for the strong and loved ones will help to neatly and stylishly sign the product with minimum time-spending! Various forms of cut-outs and fonts are especially useful for different styles of decorating, themes, and types of decorative work. Paper with inscriptions is ideal for postcards, scrapbooks, gift wraps, chests, boxes, bonbonnieres.
For convenience, inscriptions on designer paper from ROSA TALENT are in two languages: Ukrainian and Russian.
Basic properties:
• Relevant interesting designs
• Various forms of cut-outs and fonts
• Sheets in sets of the same colour scheme can be combined with each other
• Matte coated paper A4
• Noble matte surface of the paper;
• Available by piece and in sets;
• Does not contain lignin.