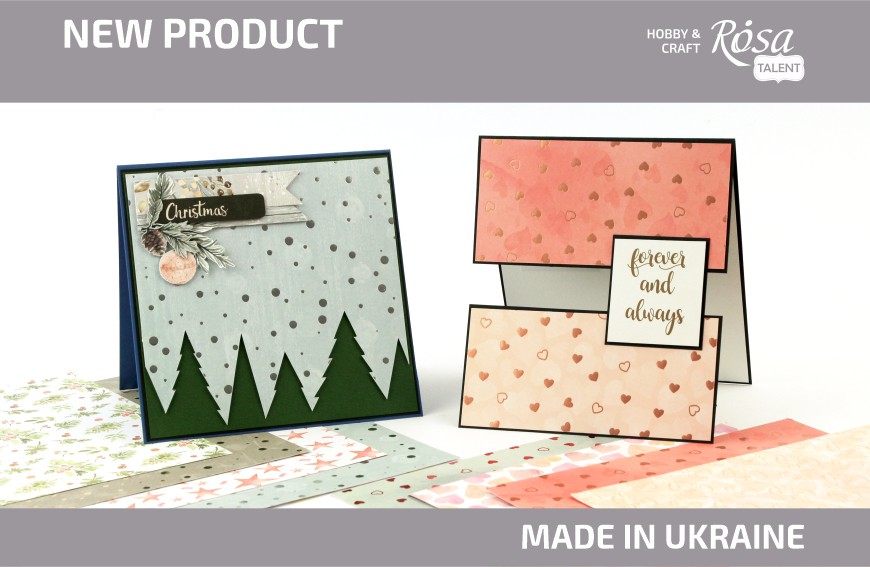 ROSA TALENT has prepared something brilliant for you!
8 sheets of shiny paper and 3 sheets with holiday inscriptions - new items of designer paper from ROSA TALENT.
Combination of luxurious foil stamping and matte background in double-sided design paper ROSA TALENT. The existing forms of stamps are now in the New Year theme and completely new in the form of hearts for postcards for loved ones will inspire fresh creative ideas.
New Year's sayings and wishes in the paper series "Inscriptions" will allow you to sign the product quickly and give it a festive mood!
Stamping "Drops", "New Year" series
The foil stamping "Drops" and the matte pages of the designer paper are in tune with the existing "Winter Dreamer" series. They are perfectly combined with each other, allowing you to create a finished work.
Christmas ornaments, pine twigs, symbolic Christmas stars on a paper background will add mood and atmosphere to the work.

Stamping "Hearts", series "Lovers"
The new stamping shape "Heart" perfectly complements the pastel page designs that ideally match the existing "Valentine's Mood" paper series. The series is ideal for creating postcards, valentines, wedding invitations, bonbonniere, boxes. Add shine and luxury to your artwork!

ROSA TALENT foil stamped paper is designed for use in scrapbooking and card making techniques:
• 4 new motifs in the New Year's theme and 4 - in "Lovers" series ;
• 5 metallic colours of stamping: already known - gold, silver, copper and 2 new ones - red and purple;
• 4 stamping designs: butterflies, drops, geometry, hearts;
• Stylish design and the most popular colours, which are combined with each other and existing designs of ROSA TALENT paper;
• Matte paper with a density of 200 g/m2.
Inscriptions in Christmas theme - 3 new sheets.
Thematic sayings and wishes in three languages, a combination of black font with gold, different forms of clippings and fonts will allow you to sign your product neatly and stylishly with a minimum of time!

Thanks to the features of paper, it's easy and fun to work with it using the scrapbooking and card making technique.
• 3 sheets of Christmas inscriptions in three languages: Ukrainian, Russian, English
• Matte Coated A4 paper with a weight of 250 g/m²
• Gold printing of separate words
• Printed grid for convenient cutting of a selected inscription
• Various cut-out shapes: round, oval, square, rectangular
Paper with inscriptions is ideal for complementing cards, scrapbook albums, gift wraps, boxes, and bonbonniere.
Design paper from ROSA TALENT combines all the characteristics for easy and comfortable scrapbooking!