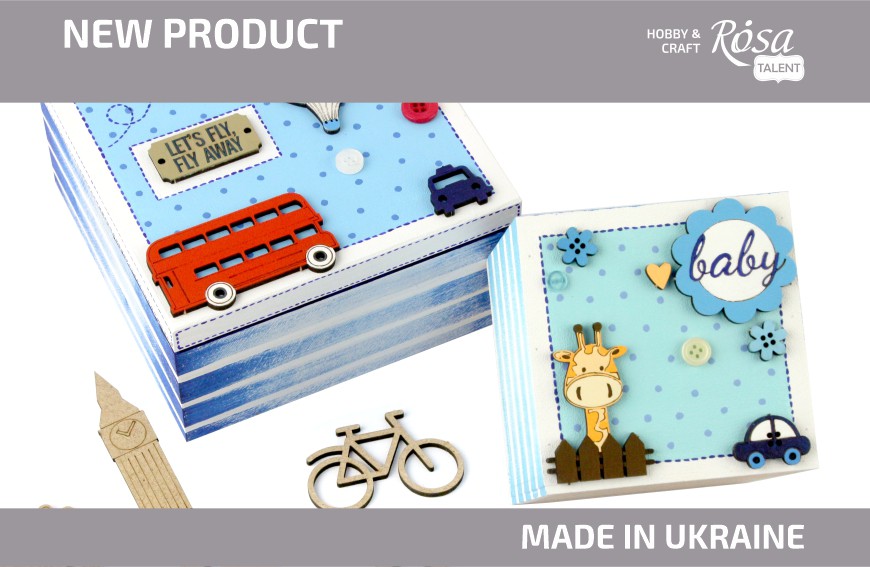 ROSA TALENT again has new products - the most popular motifs of chipboard embellishments are now more tridimensional and made of chipboard!
• "Floral Poem" - romantic butterflies, dragonflies, birds;
• "Emotion & Romance" - delicate floral motifs;
• "Make your journey" - inscriptions and elements for a travel album;
• "Openwork" - openwork feathers of different sizes;
• "Children's motifs" - favorite children's characters for children's scrapbook albums;
• "Cake delicious" - kitchen elements for the decoration of the cover of the kitchen book.
Chipboard pieces go well with scrapbooking paper from these collections.
ROSA TALENT chipboards embellishments are made of 3 mm thick chipboard, thanks to which they are strong, don`t get wet or soak on contact with the paint. Each thematic sheet, size 12.8x20 cm, contains an average of 15-20 elements, the chipboard sheet can be used as a stencil afterward.

Main properties:
• Durable 3 mm thick chipboard that does not buckle or soak on contact with glue and paint;
• Popular designs and popular motifs;
• Ability to combine different materials for scrapbook album in one theme;
• Chipboard sheet after taking out of all the elements can be used as a stencil afterward
• The size of the sheet is 12.8x20 cm.
Thanks to the increased thickness of chipboard pieces, they can be used not only in scrapbooking but also for decorating box lids, boxes, and desktop organizers with drawers, for decorating gifts, interior items. This allows you to make a three-dimensional and stylish decor, which can be painted with acrylic paint, markers, varnish, decorated with textured pastes, coloured powders, etc.
These are original embellishments that will allow you to implement the ideas and plans of craftsmen, and make your product special.