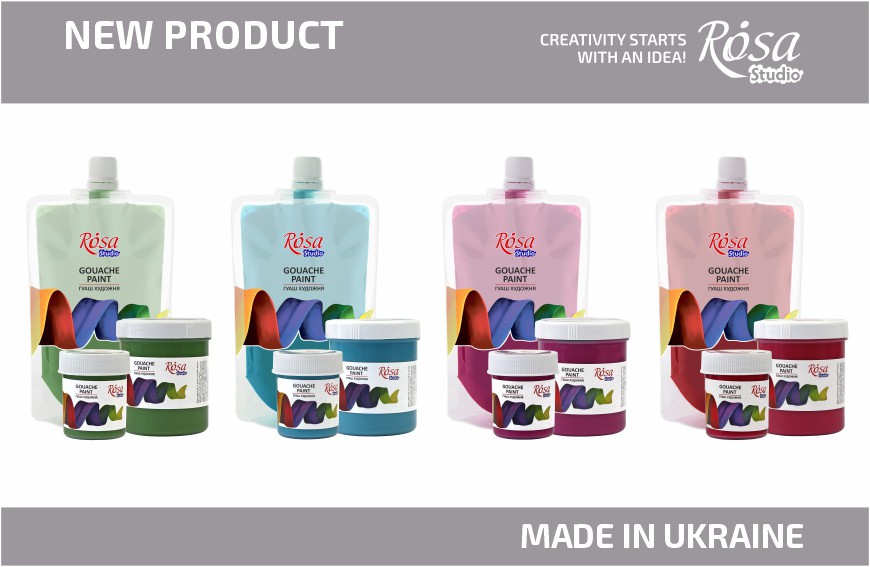 4 new colours have complemented the ROSA Studio artists' gouache paint palette. From now on, the full palette has 30 colours!
More details about each new colour of ROSA Studio gouache paint:
• Chromium oxide. Classic green colour for a natural depiction of greenery, grass, tree crowns.
• Turquoise. The deep blue-green colour perfectly depicts water, sky, sea depths.
• Quinacridone pink. The pleasant pink colour is perfect for botanical illustration. In a mixture with ultramarine, you can get a lot of purple/flower shades.
• Purple light. Good covering power for flower petals painting, it looks very well in tint.

The new colors are available in three main sizes: 40 and 100 ml jars, 200 ml soft pack.
ROSA Studio gouache paint is made from high-quality pigments and a natural plant base. From now on, ROSA Studio range of gouache paints makes  - 30 basic colours, which allow you to get new shades when mixed.
Gouache paints ROSA Studio :
• Highly pigmented gouache has good covering ability
• The colours are saturated; they do not lighten even after drying
• Due to the creamy consistency, the paint spreads evenly on the surface
ROSA Studio Gouache Paints are ideal for students, illustrators and a perfect choice for handcrafted and
decorative creations.
More colours are new features with an expanded palette of gouache paint from ROSA Studio!