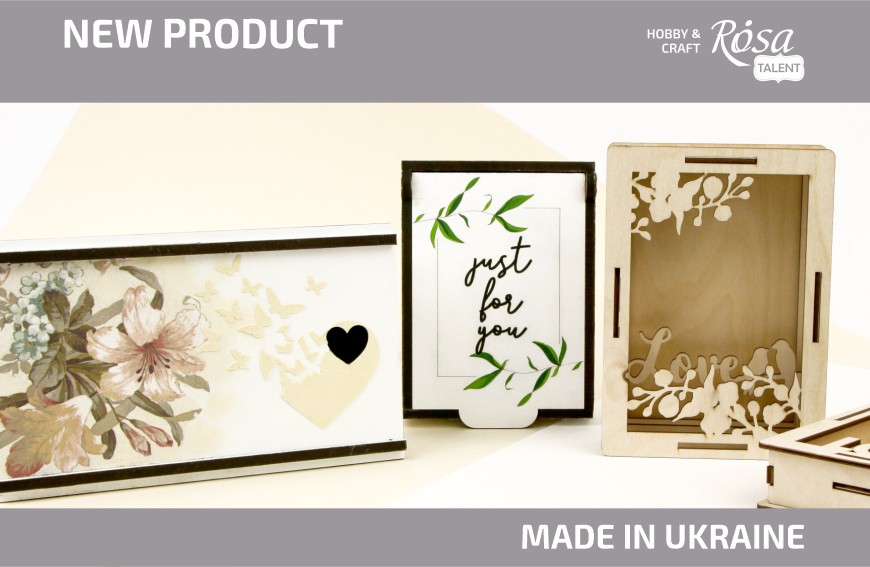 Christmas holidays are over, so it's time to start getting ready for Valentine's Day! New reusable stencils and blanks from ROSA TALENT in the "Love" series will provide a romantic mood to products for Valentine's Day, weddings, proposals, and other joyful events!
Series "Love" are tender confessions in the inscriptions that will touch the heart of a loved one. Elements of the heart will be the central composition of the product, and background stencils will create a romantic background on a postcard or scrapbook album for the main holiday of lovers.
ROSA TALENT reusable stencil is completely transparent that allows you to see the previously decorated base and the place where the future decor will be applied. It is easy to control the decorating process and make additions.
Made of transparent plastic, 0.5 mm thick stencil is ideal for working with pastes, gels, thick acrylic paint to create a clear three-dimensional relief.

New stylish blanks for decorating in the "Love" series are fresh and interesting motifs that exactly complement the existing ROSA TALENT collections:
• Classic blanks for the decoration of the "Heart" are always in demand and are used as themed pendants that are perfect for decorating holiday halls, photoshoot decor.
• 3D and classic photo frames can be decorated in a special way, place a photo, and… here it is: a gift for Valentine's Day is ready.
• MDF gift boxes and boxes can be used as packaging for your gifts, and then they can be used to store things: jewelry, small memorabilia, postcards, and letters. Bring joy and surprise to your loved ones!

New blanks for decoration ROSA TALENT are perfect for the existing Wedding series, and this is a chance to complement and expand the "Wedding" series with additional elements.
Textured pastes, stencils with romantic motifs, sparkles, rich red or delicate pastel colours of acrylic paints will turn any blank into a work of art. All you have to do is let your imagination run free and enjoy the creative process.
Even more beauty and romance with ROSA TALENT!