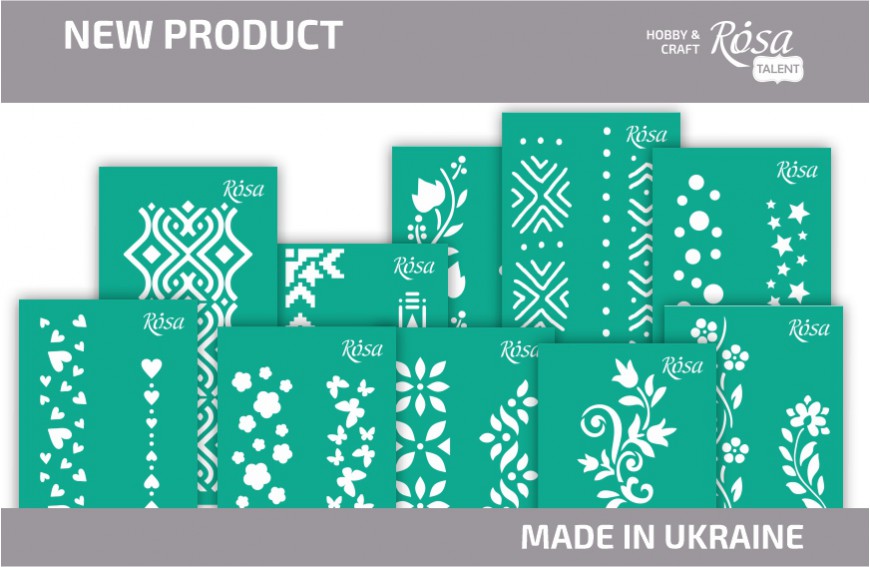 We present a novelty for decorators - reusable border stencils in a new size 9x17 cm from ROSA TALENT!
Border stencils are the most popular and frequently used decor, and such stencils are needed in the toolbox of every decorator. The new size of border stencils is convenient for decorating small areas: the ends of boxes, drawers of chests of drawers, tiles, pillows, edges of tablecloths.
Laconic geometry patterns, romantic hearts, and floral motifs of the stencils are always trending and in demand in decoration.

Due to the high-quality adhesive base, the stencils perfectly adhere to various types of surfaces: fabric, glass, wood, paper, canvas-based, do not allow the paint to bleed underneath and do not leave traces of glue. And, what is important, they can be used many times, only clean them thoroughly of the materials that were applied.
Self-adhesive stencils ROSA TALENT are suitable for working with acrylics and gouache paints, spray paints, fabrics paint, glass and ceramic paint, structure pastes, gels, gilding, markers, chalk, wax crayons, and others. The creation of decor using ROSA TALENT stencils turns into an easy and fun process.
Characteristics of the new ROSA TALENT reusable self-adhesive stencils:
• New size of border stencils 9x17cm;
• Reusable strong adhesive layer;
• The stencil fits snugly to the surface, keeps the pattern from paint bleeding;
• Stylish trendy motifs;
• For decorating various types of surfaces.
Self-adhesive stencils ROSA TALENT are an ideal solution in the work of interior decorators, handicraft lovers, scrapbookers, a wonderful helper for students and schoolchildren, an extremely convenient material for decorating together with children.
Reusable stencils ROSA TALENT in sizes: 9x10, 9x17, 13x20, 21x29.7 cm. Choose the one that is convenient and right for you!