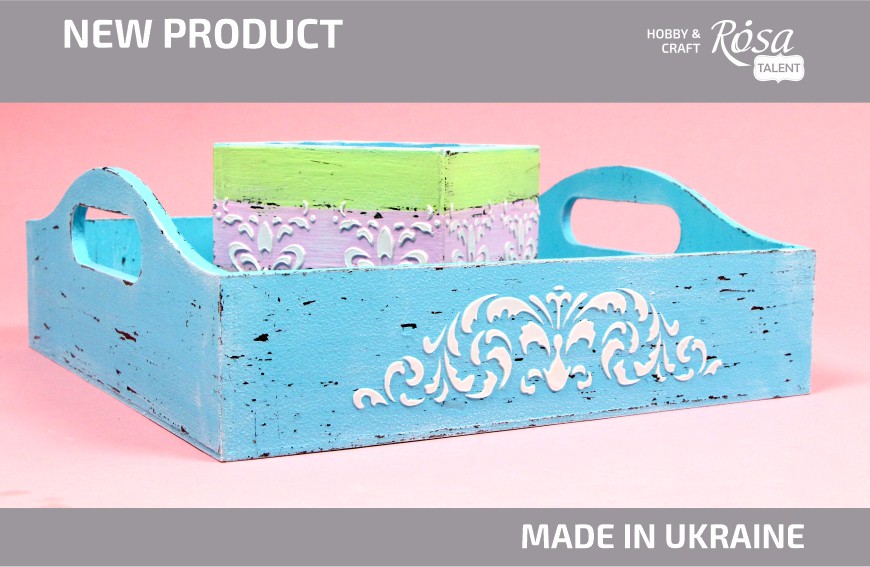 Meet the new series of reusable stencils from ROSA TALENT - "Tracery" and "Alphabet"! Create incredible intricate patterns and sign your works easily with paints, markers, pens, texture pastes in just a few minutes.
• "Tracery" series. Classic patterns, elegant lace elements done in several paint colours will create an independent background, a separate element, and border stencils will exquisitely emphasize the shape and corners of the product.
• "Alphabet" series. The English alphabet in three designs, the combination of Ukrainian and Russian letters on one sheet, the combination of Roman and Arabic numerals are popular stencils that no scrapbooker can do without. Using "Alphabet" stencils will save you time when writing phrases, words, dates, and will allow you to do it clearly and stylishly.

ROSA TALENT reusable stencil is completely transparent that allows you to see the previously decorated base and the place where the future decor will be applied. It is easy to control the decorating process and make additions.
Main properties:
• Ideal thickness (0.5 mm) for creating three-dimensional, relief images with paste or gel;
• Transparent: creating of symmetrical images and multilayer compositions;
• No adhesive layer makes it possible to apply the next layers of decor, keeping the previously created ones not damaged;
• Versatile. For working with materials of different consistency: paint, spray, paste, gel;
• Durable in use;
• Ideal size: 13x20 cm.

Self-adhesive stencils ROSA TALENT are an ideal solution in the work of interior decorators, handicraft lovers, scrapbookers, a wonderful helper for students and schoolchildren, an extremely convenient material for decorating together with children.