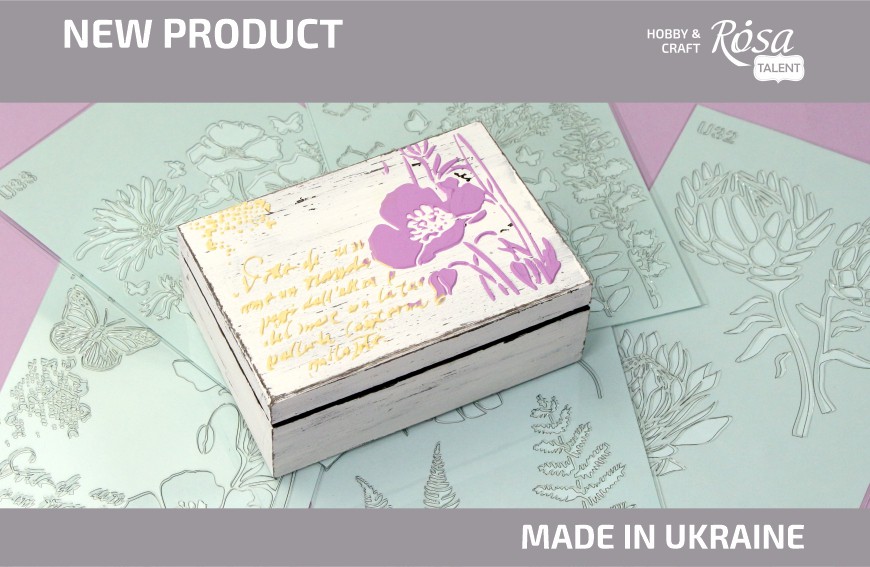 New designs of ROSA TALENT reusable stencils for delicate spring/summer motifs: "Flowers", "Butterflies", "Birds".
• "Flowers" series. Splendid poppy fields, motley grass, delicate twigs, monstera leaves, and ferns create an independent background or separate elements on the product.
• "Butterflies" series. A variety of butterflies, bees, and dragonflies add mood to the work. With their help, you can create individual complex elements using paints, markers, and texture pastes.
• "Birds" series. Lovely chicks on the branches and romantic swallows can be used as an independent background or as separate elements.


ROSA TALENT reusable stencil is completely transparent that allows you to see the previously decorated base and the place where the future decor will be applied. It is easy to control the decorating process and make additions.
Main properties:
• New summer series: "Birds", "Flowers", "Butterflies"
• Transparent: creating of symmetrical images and multilayer compositions;
• No adhesive layer makes it possible to apply the next layers of decor, keeping the previously created ones not damaged;
• Versatile. For working with materials of different consistency: paint, spray, paste, gel;
• Durable in use;
• Ideal size: 13x20 cm.
Self-adhesive stencils ROSA TALENT are an ideal solution in the work of interior decorators, handicraft lovers, scrapbookers, a wonderful helper for students and schoolchildren, an extremely convenient material for decorating together with children.