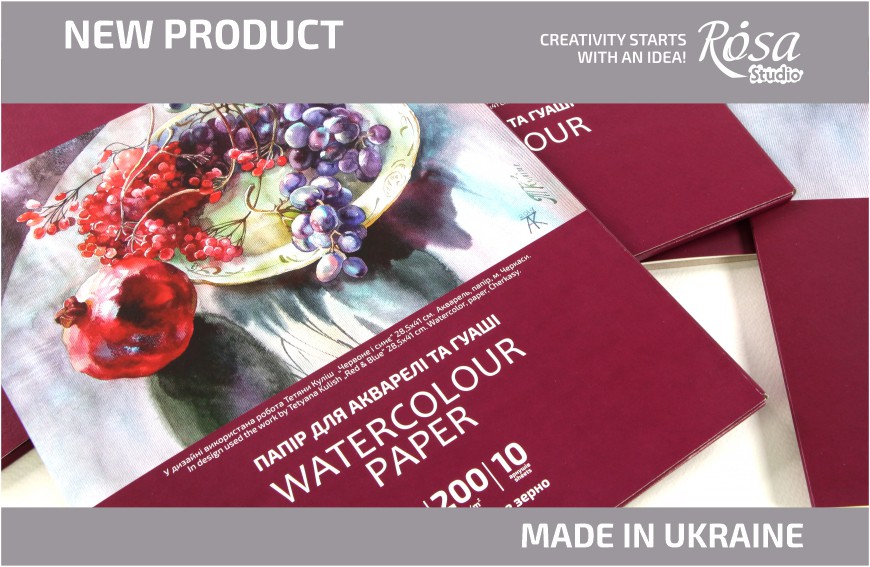 Popular folders for watercolour paper from ROSA Studio from now on hold 10 sheets - a great choice for beginners, and students.
Be inspired by the wonderful painting by Ukrainian artist Tetiana Kulish "Red and Blue", which decorates the cover of new folders for watercolour paper.
The folders hold 10 sheets of European watercolour paper with 100% cellulose and are available in popular A3 and A4 sizes. Special paper sizing ensures the flow of watercolour colours, brightness, and depth of shades. Thanks to it, the paint does not bleed on the back side, and the paper flattens after drying. The fine-grained texture of the paper is ideal for painting small details and for creating fillings. Besides paint, you can use paper to work with pencils, liners and ink.

• Acid-free paper made of 100% cellulose
• Optimal 200 gsm paper weight;
• Fine-grained texture is ideal for painting small details and creating fillings
• Special sizing ensures the flow of colours
• Also suitable for gouache and drawing
• Author's laconic stylish design of the folder.
A thick cover allows you to use the folder for storing and transporting paper and finished work. Special flaps keep the paper inside the folder; it does not fall out, does not get dirty, and does not get folded during transportation.
Choose the most convenient packaging of watercolour paper - packaging of 10 and 20 sheets or folders of 10 and 20 sheets.