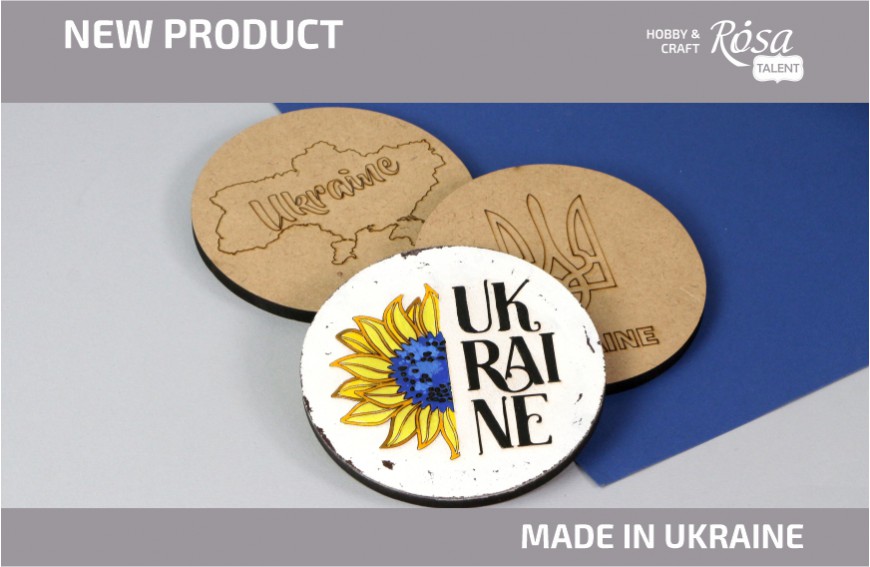 Express your position, support the patriotic spirit, and make a creative gift with new blanks from ROSA TALENT!
Decorate the interior of an office, study, classroom, or apartment with decorated products of the patriotic series of blanks "Ukraine".
Choose the type of blank and motif for your own creativity and gifts, or for a master class that is a good and appropriate opportunity to support each other.
Holding master classes with new patriotic collections will unite people, allow them to spend creative and inspirational time together and get excellent products with Ukrainian symbols as a keepsake.
23 new patriotic-themed blanks:
• Patriotic inscriptions
• Mug coasters
• Mobile phone stands
• Glasses
• Clock blanks
• Keychain sets
Motifs make it easy to combine different blanks in the collection.

Properties:
• 23 new blanks in the patriotic theme;
• Smooth MDF material is easy to decorate;
• Engraved blanks facilitate the decorator's work;
• Clear, simple images that are easy to draw on.
Thanks to the smooth, even surface, tea organizers c an be easily decorated in various techniques: painting, decoupage, craquelure, marbling, gilding, etc. If the organizer is actively used in everyday life, we recommend covering the surface with acrylic varnish to preserve its original appearance for a long time.
Painting patriotic blanks for decor by ROSA TALENT is art therapy for people of all ages.