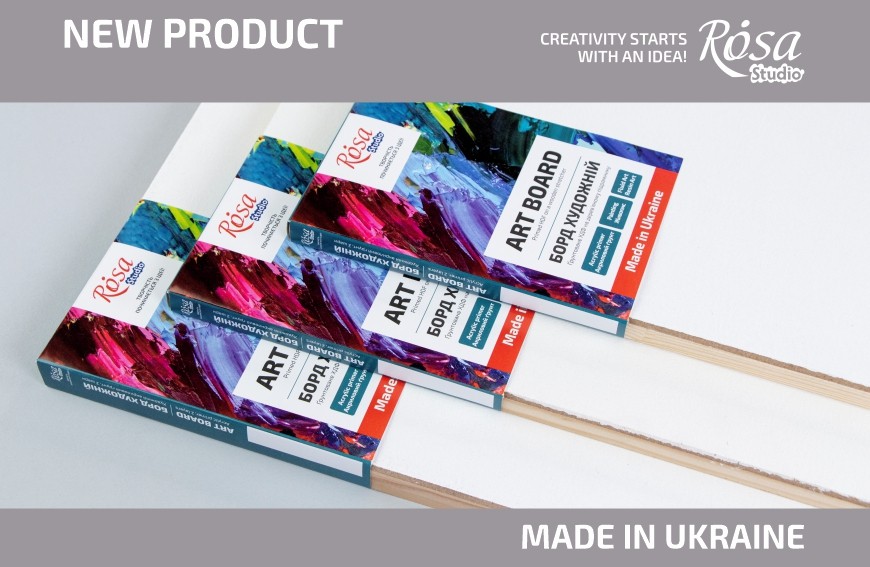 A new product in the range of ROSA painting bases is a painting board made of primed HDF from ROSA Studio!
The painting board is a solid base for painting and decorating, made of HDF 3 mm thick, and a wooden frame made of a natural pine tree.
The base of the board is covered with two layers of artistic acrylic primer, so it has a ready-to-use smooth white surface with a light texture from the primer. Suitable for painting both detailed and textured plots.
The thickness of the wooden frame allows you to place works on the wall without a baguette frame and additional fastening, it can also be used as an extension of the work surface. The smooth polished edges of the board have an aesthetic look. A solid primed painting base attached to a wooden frame is resistant to diagonal changes due to mechanical damage associated with transportation and storage.

Available in sizes from 20x30cm to 60x80cm.
A primed board is an ideal basis for:
• classical painting with oil paints, pastel, acrylic, gouache, and watercolour;
• creation of original interior art objects in Fluid Art, Resin Art techniques;
• decoupage and other decorating techniques.
This is an excellent choice for artists who like to work in the paste painting technique because the board will not sag under the weight of paints.

Main properties:
• Primed HDF
• Artists acrylic primer, 2 layers
• Wooden subframe
• Smooth polished edges
• For acrylic, oil, and other types of paint
• For work in the Fluid Art technique
• Sizes from 20x30cm to 60x80cm

The painting board from ROSA Studio is a good choice for decorators, beginners, and creative individuals.