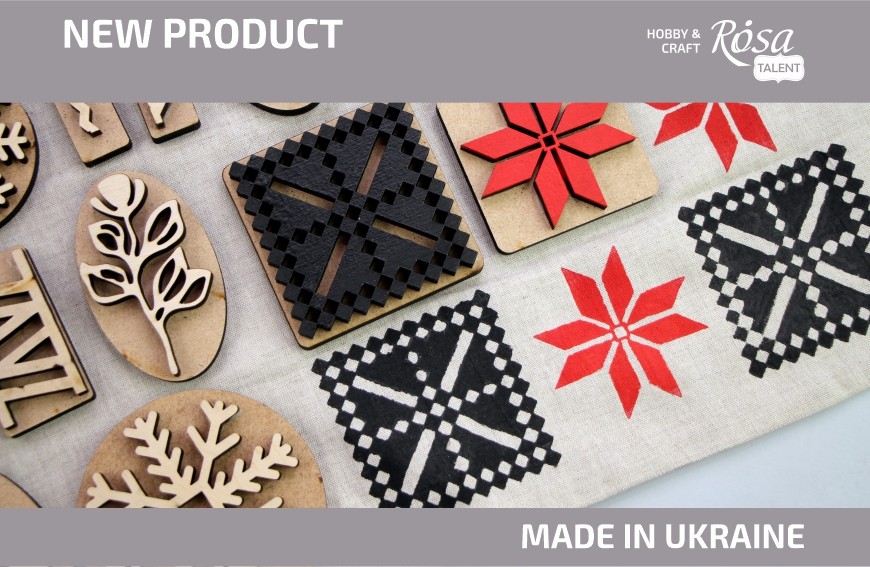 New stamps for block printing from ROSA TALENT - a real catch for decorators, craftsman, and also, amateurs in decorating! This is the ability to create repeating patterns and prints in a matter of seconds on different materials. And the process is so exsiting and simple and easy.
You can choose stamps from ROSA TALENT in 4 popular themes:
Embroidery. Motifs that are suitable for creating vyshyvanky (embroidered shirt), towels, tablecloths and other textiles with national elements.
Geometry. Geometric patterns are often used by decorators in their work. You can decorate the whole item exclusively with these designs, or combine geometry and embroidery elements or plant motifs for one handiwork.
Botany. The use of botanical elements (flowers, leaves, twigs) on clothes by our ancestors carried a certain symbolism. Such patterns look unique and authentically on linen, and nowadays you can use any natural fabrics that you like. Clothes, decorative pillows, eco bags, kitchen textiles, ceramic dishes and many other products where you can apply a botanical theme. The repetition of the same elements on different items in the interior will look especially stylish: tablecloth, napkins, dishes, panels.
Christmas theme is perfect for creating festive tablecloths, textile napkins, and eco bags. And together with the children, it will be interesting to create greeting cards, decorate socks for Santa or bags for congratulations.

What is block printing? And what is its special feature?
In ancient times, our ancestors used wooden stamps to create beautiful patterns on fabric. They applied paint to them and stamped them on the fabric - that's how the prints of that time were created. Most often, patterns were created on linen fabric - these were flowers, birds, leaves, embroidery, and various geometric elements.
Years later, we want to explore our Ukrainian traditions and discover this ancient technique for ourselves.
Modern stamps for block printing are universal tools for creating prints and impressions on various materials.
There are many options for using this tool to create:
Patterns on textiles. This is a classic option for using stamps. For this technique, special acrylic paint for fabric and natural fabrics without thick places and knots must be used: linen, cotton, calico. Stamps can be applied to the fabric by combining different motifs from the series. So the product will look more interesting.
Impressions, creation of relief on unbaked products made of ceramics and polymer clay. Clay objects look special: pots, plates, and panels with three-dimensional relief patterns. To make the image more visible, the pattern can be painted over with colour.
Images on postcards and scrapbooks. Stamps are a quick help in creating a postcard when we are short on time and materials. All you need is a base for the card, a stamp, and acrylic paint for decoration. The main requirement for creating a clear, high-quality image is to apply acrylic decorative paint to the stamp with a sponge and without excess.
Impressions on kraft paper bags and packaging. Choose soothing, natural colours for stamping so that it looks harmonious.
A little tip: when you stamp on paper repeatedly without applying paint, your patterns will have an aged effect, which looks very interesting and special.

Main properties:
• A universal tool for creating prints and impressions on various materials;
• Popular topics: Embroidery, Geometry, Botany, Christmas;
• 4-5 different motifs in each topic
• The material of the base is MDF, and the material of the stamp is plywood.
In order for you to succeed the first time, the decor is fixed perfectly, and the stamp served for a long time, we advise you to use simple recommendations:
We apply acrylic paint for fabric painting (for cardboard - acrylic for decoration) to the stamp with a sponge. Paint is applied without excess so that the drawing is exect . Different colours of paint can be applied to one stamp if it's your idea for the image.
In order for the pattern to be clearer, we advise you to put a soft, even lining under the base: fabric or paper.
Firmly and evenly press the stamp to the fabric for a few seconds. If you want each impression to be saturated, then you need to apply paint before creating each new impression.
We fasten the drawing no earlier than 12 hours after application with hot iron through a thin cotton fabric.
You can wash the product no earlier than after 48 hours. We recommend hand washing or machine washing, in delicate mode with mild detergents. The temperature of the water should not exceed. Usually, the picture that is made with acrylic for fabric can't be soaked.
We create an impression on the clay, pressing the stamp to the material firmly, but carefully so as not to damage the product, or make a stamp before forming the product.
One stamp can last quite a long time. But it should be handled with care - properly cleaned and dried. During work, wipe it with a dry cloth after applying each colour. At the end of the work, wipe the stamp with a dry cloth and let it dry. Do not soak in water..
Block printing is minimalistic beauty, authenticity and sophistication. Choose the motifs of stamps that you like the most, experiment with fabrics and colours, discover new ideas, and preserve customs with ROSA TALENT!