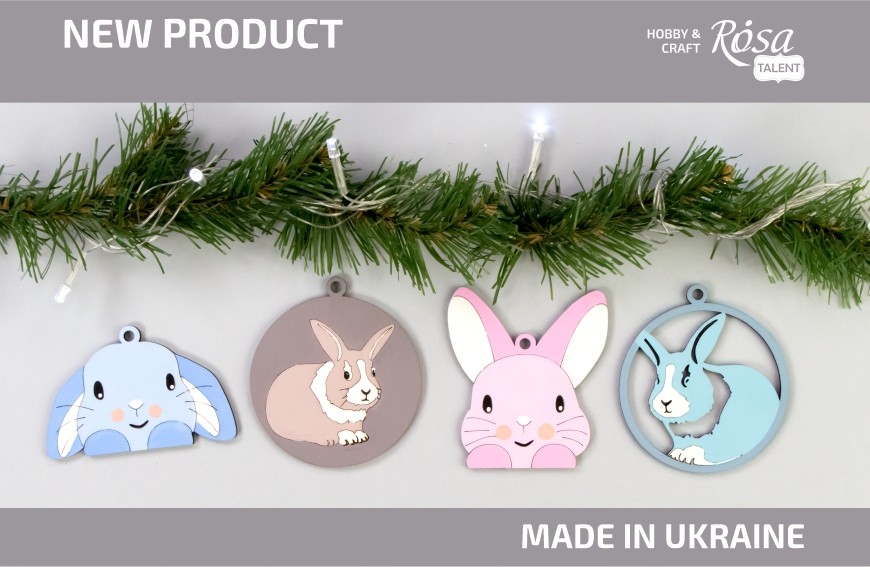 And no Grinch will steal the Christmas spirit from us!
New Christmas blanks for decoration from ROSA TALENT are cute rabbit figurines - symbols of the coming year 2023 that will bring a festive mood and coziness to your homes during the Christmas holidays! May the coming year be as calm and peaceful for all of us as its symbol.
We have prepared for you 3 sets of thematic blanks for decoration made of fiberboard of 4 and 5 pieces in a package.
Cute rabbit figurines on a hanger are original decorations for the Christmas tree, or as a hanger for a gift package or a decoration for a festive hall. The outline applied to the blank makes it easier to paint with acrylic paint, so you can confidently entrust this task to the smallest decorators or organize a joint creative evening.
Use pearlescent paint and metallics to paint ornaments - they will shimmer beautifully and be illuminated by Christmas tree garlands. Individual elements of the blanks can be covered with glitter, and painted with contour lines with various effects.
We create holiday and Christmas magic together with ROSA TALENT!