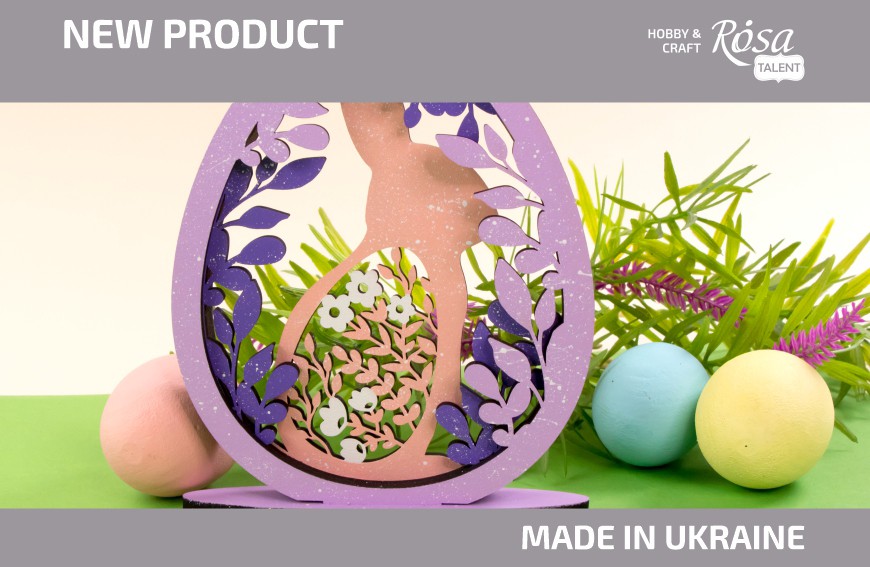 Meet new Easter theme blanks from ROSA TALENT! 3D blanks, coasters, toppers, and figurines for decorating are stylish decor for creating a festive mood.
New Easter blanks from ROSA TALENT:
• Choose sets of blanks with a rope for decorating an Easter basket, a home, and decorating of an Easter tree.
• Set of toppers can be used in the decoration of a holiday composition or an Easter basket. Use them to decorate the main attribute of the holiday - Easter bread. It will look stylish, unusual, and modern.
• 3D "Bunny" compositions on the stand will be the highlight of the holiday and will perfectly complement the decor of the festive table, where the whole family gathers.
• Egg holders are an original and convenient option for placing Easter eggs on a festive table or in an Easter basket.

You can decorate Easter blanks in various techniques: painting with acrylics, decoupage, contours for volumetric painting, texture pastes using stencils, etc. For painting, use bright or delicate pastel colours: pink, blue, light green, orange, purple, yellow, and white. The decor should be soft, clean, bright as a big Easter holiday itself.
Features of ROSA TALENT Easter blanks:
• Various designs of blanks in Easter theme;
• Easy to assemble thanks to a simple and clear design;
• Plywood material allows you to use blanks without decoration;
• They are easy and convenient to decorate;
• The blanks have assembly instructions.

New blanks perfectly complement the existing range of bases for decorating. Choose exactly what you need to decorate the table, and create a festive atmosphere of a bright holiday.
Immerse yourself in the Easter atmosphere with ROSA TALENT blanks for decorating!