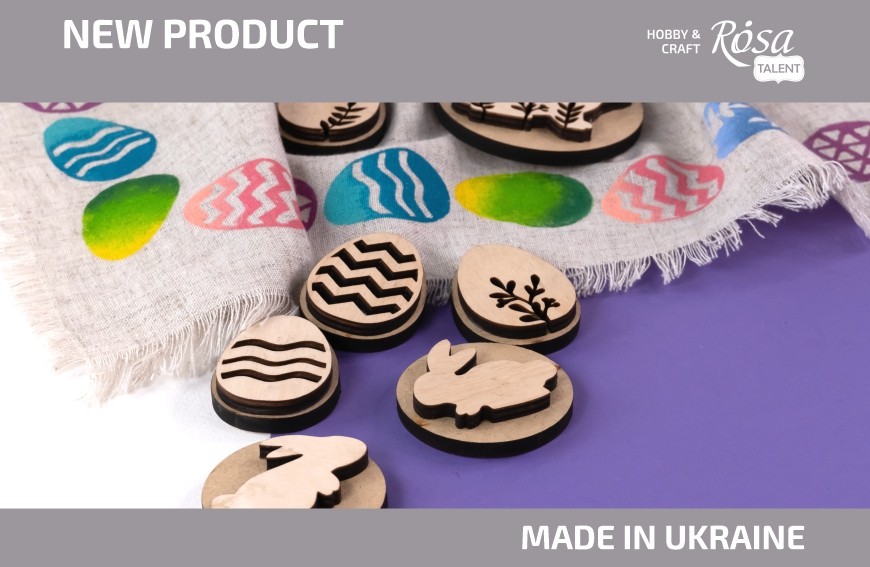 Easter motifs stamps from ROSA TALENT for creating products that will add to your home the atmosphere of a real holiday!
Decorate textiles with Easter patterns that will decorate your festive table and Easter basket: tablecloths, napkins, towels.
The repetition of the same elements on different items in the interior will look especially stylish: tablecloths, dishes, panels.
Combine new Easter patterns with existing patterns: geometric elements, leaves, twigs to create a harmonious finished product.
Involve children in creativity and with the help of stamps for block printing create greeting cards, eco-bags for storing sweets, and decorate craft bags for gifts.

Modern stamps for block printing are universal tools for creating prints and impressions on various materials.
There are many options for using this tool to create:
Patterns on textiles. This is a classic option for using stamps. For this technique, special acrylic paint for fabric and natural fabrics without thick places and knots must be used: linen, cotton, calico. Stamps can be applied to the fabric by combining different motifs from the series. So the product will look more interesting.
Impressions, creation of relief on unbaked products made of ceramics and polymer clay. Clay objects look special: pots, plates, and panels with three-dimensional relief patterns. To make the image more visible, the pattern can be painted over with colour.
Images on postcards and scrapbooks. Stamps are a quick help in creating a postcard when we are short on time and materials. All you need is a base for the card, a stamp, and acrylic paint for decoration. The main requirement for creating a clear, high-quality image is to apply acrylic decorative paint to the stamp with a sponge and without excess.
Impressions on kraft paper bags and packaging. Choose soothing, natural colours for stamping so that it looks harmonious.
A little tip: when you stamp on paper repeatedly without applying paint, your patterns will have an aged effect, which looks very interesting and special.
Main properties:
• 12 Easter motifs;
• A universal tool for creating prints and impressions on various materials;
• The material of the base is MDF, and the material of the stamp is plywood.
Easter is almost here and you still have time to create an Easter decoration that will create a festive atmosphere and delight you and your family all holidays!