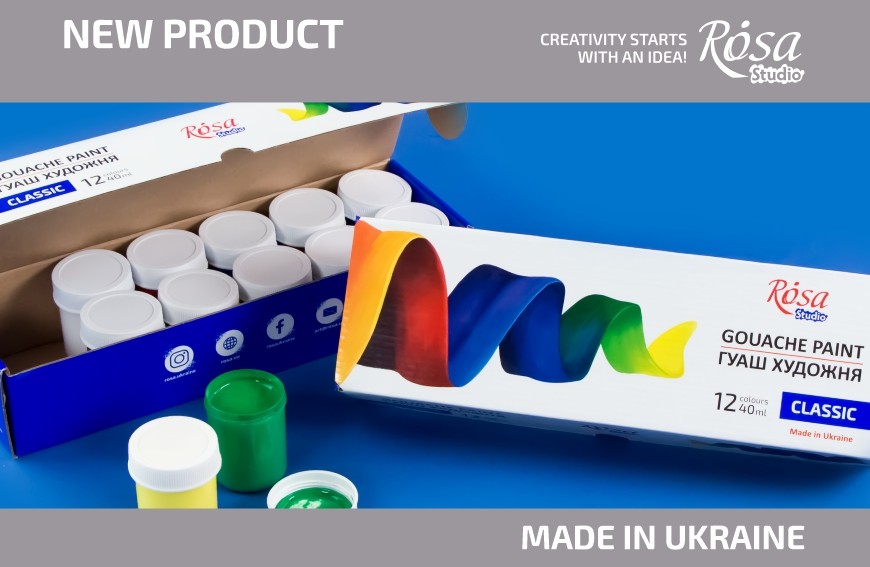 In response to many requests, we have supplemented the range of ROSA Studio gouache sets with an alternative version of the main set of paints CLASSIC from ROSA in a rectangular package made of dense thickened cardboard!
The new box of the set, made of solid corrugated cardboard, is even stronger and more durable during use and transportation. The box has a different shape and way of opening than the existing sets. Now it is possible to choose a set in such packaging that will be more convenient for you.
The new CLASSIC gouache paint set contains 12 colours of 40 ml of the classic range, which is ideal for both beginners and experienced artists.
ROSA Gouache Paints are produced of high-quality pigments on natural plant basis. Finely grated pigments allow you to dilute gouache with water almost to the state of watercolor, so you can successfully implement your ideas and go beyond the technique of gouache painting. Excellent covering power enables painting in layers and correcting the initial painting.
The light gouache colours of ROSA Studio are made with gum arabic, which makes them bright and clean.

Key properties of ROSA Studio GOUACHE:
• High pigment concentration - excellent covering power
• Colours retain their intensity even after drying
• Paints are easily mixed
• Due to the smooth creamy consistency, the paint lies on the surface in a uniform layer
ROSA Studio gouache paints are a great solution for those who study painting, arts and crafts or are engaged in illustration.
ROSA Studio Gouache Colours are developed by qualified ROSA technical engineers taking into consideration the requirements and recommendations of the fine art schools' teachers.
Important: Now all sets of gouache paint are designated by the series: MODERN, CLASSIC and CREATIVE. All series have different types of sets and differ in their composition. Choose a set to your liking and enjoy the process!
The new CLASSIC gouache paint set from ROSA Studio in a new dense box will keep your paints whole and undamaged for a long time!