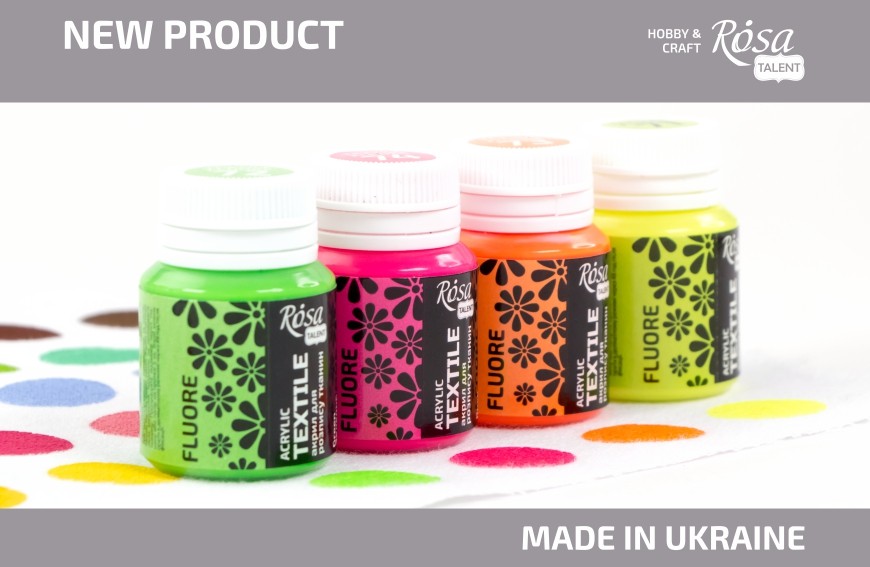 Meet spring brightly! The new line of acrylic fabric paint from ROSA TALENT - 4 popular fluorescent colours in a size of 20 ml that glow under ultraviolet light:
• Yellow
• Green
• Pink
• Orange
The new fluorescent coulors blend perfectly with all ROSA TALENT colours of acrylic fabric paint. The high pigment concentration in the paint provides rich, bright, pure colours after application and a high level of fluorescence. The painting with such colours looks especially stylish and contrasts with black fabric.
If you apply a fluorescent colour to a dark fabric, paint a background under the pattern in white for maximum effect.
Do you want to create a unique painted item, but have no experience in drawing? Use self-adhesive stencils or stamps for block printing from ROSA TALENT.
Denim jackets, T-shirts, eco-bags, and sneakers - easily turn into a unique stylish thing with the use of acrylic on fabrics ROSA TALENT.
ROSA TALENT acrylic paints on fabric are ideal for painting light and dark fabrics of various compositions, including leather and suede. They are elastic after drying and do not excessively thicken the fabric. Bright and saturated colours of paints mix well with each other, forming new desired shades. Thanks to the homogeneous consistency, the paint is applied evenly to the fabric and does not bleed, so it is convenient for stencil application.

Main characteristics:
• Popular fluorescent colours;
• Paint is applied and spread equally well on natural and synthetic fabrics;
• The paint withstands hand and machine washing in the appropriate mode
In order for the painted product to remain in good condition for a long time, apply and fix the paints according to the instruction sheet!
How to use:
Apply on a dry and clean fabric.
Put the film (or any waterproof material) in-between the fabric layers to prevent paint leakage while decorating.
Stir thoroughly before applying.
Dilute ROSA TALENT paints with water or a fabric paint thinner.
Once dried, the painting is fixed with iron (no steam) at a fabric suitable temperature using paper or a cotton fabric as a filter. Iron each sector of the painting for at least 5 minutes. If the ironing is forbidden, the painting can be fixed in the oven at 120°C for 20 minutes. Complete fixation without ironing and heating is achieved in 48 hours.
Washing is permitted in at least 48 hours. We recommend hand wash or delicate machine wash with soft detergents. Maximum water temperature must not exceed 40°C.
Create unique bright patterns on fabric with ROSA TALENT fluorescent acrylic fabric paints, and add brightness, radiance, and youthful style to your everyday clothes!