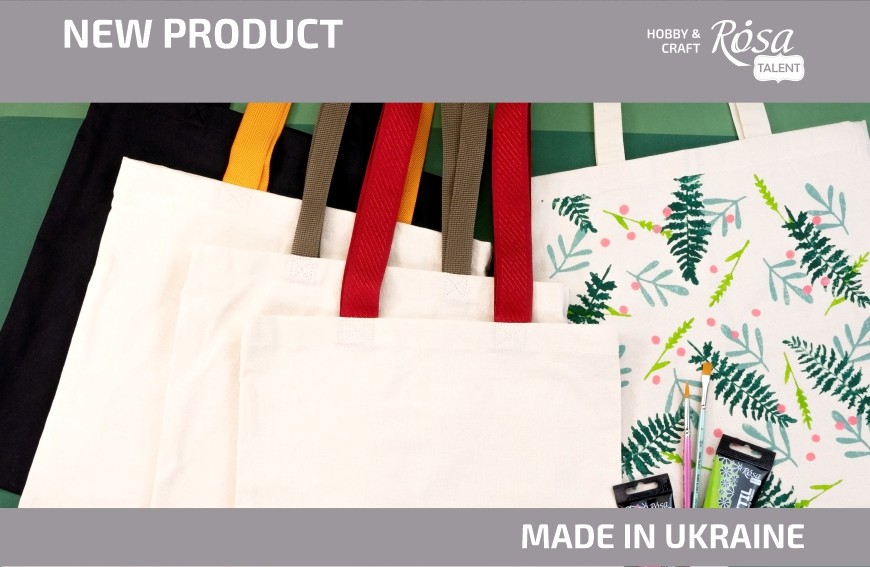 In addition to the range of textile bags, gift bags, and backpacks, we offer you new black and light cotton bags with coloured handles from ROSA Talent.
More colour choices of textile blanks allow you to more accurately choose the basis for creating a handmade accessory and diversify your wardrobe. New colours - new opportunities to create an exclusive, special product!
Choose an eco-bag to your taste:
Black cotton bag, size 38x42 cm;
Black cotton bag with bottom, size 38x35x7cm;
Bag made of unbleached cotton, size 38x42 cm, with coloured handles: red, orange-yellow, khaki.

Textile bags are supposed to be painted with acrylic paint for textile and decorated with various techniques. Stencils, and block printing stamps from ROSA Talent will be good assistants in fabric painting.
Main properties:
• Various colours of tape handles: red, orange-yellow, khaki.
• Made of thick dense cotton;
• Strong seams, reliable sewing machine stitching of the handles;
• The density of the fabric helps to withstand heavy loads and keep its shape.
Painting eco-bags is an exciting creative process, the result of which is a completely unique accessory that will attract the attention of others and preserve nature!