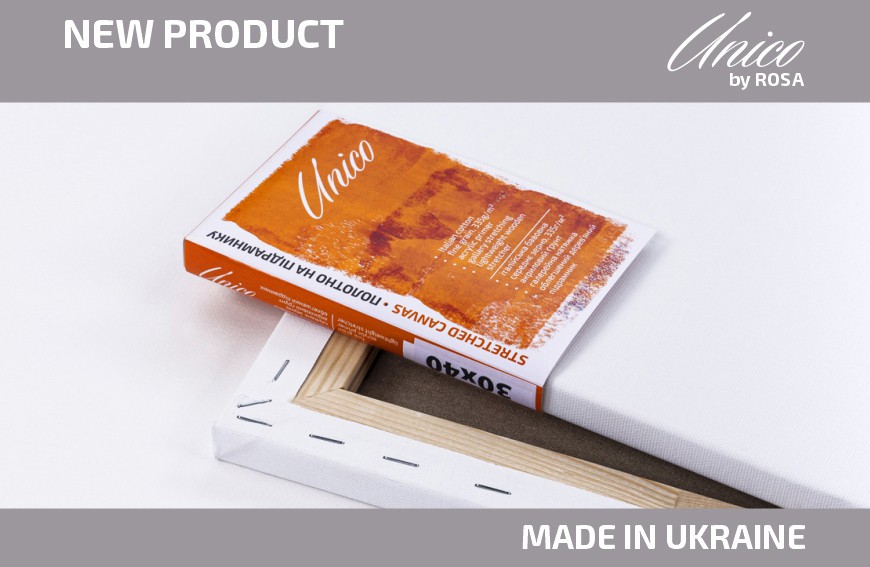 Already familiar to you Uniсo by ROSA Stretched Canvases now are made with gallery stretch! New Stretched Canvases have significant advantages, but their cost remains unchanged.
Now Uniсo by ROSA fine grain Stretched Canvases look more aesthetically pleasing, the staples are not visible in the updated product, as they are placed on the back. This method of mounting makes it possible not to use a baguette frame and continue the picture on the end of the stretcher bar.
Unico primed stretched canvases made of Italian cotton and lightweight wooden stretcher bar is distinguished by a smooth surface and peculiarly white ground color.
• Italian cotton
• fine grain, 335 g/m2
• acrylic primer
• gallery stretching
• lightweight wooden stretcher (№00 (15х25 cm) for stretcher sizes from 40x50 cm and №0 (15x35 cm) for stretcher sizes from 40x50cm or when its one side is bigger than 50 cm)

Unico primed stretched canvases is designed for acrylic, oil and other types of paints
Fine grain canvas (335 g/m2) is suitable for painting with a brush and palette knife.
Acrylic primer preventing penetration of paint on the reverse side of the canvas
Tinted backside gives the canvas aesthetic sophistication and makes it look like linen
Gallery stretching gives the opportunity to avoid engaged frame and paint on the end face of the stretcher
* There are remains of stretched bar with side tension on the drain, they will be replaced gradually with gallery tension, depending on the end of the remains.