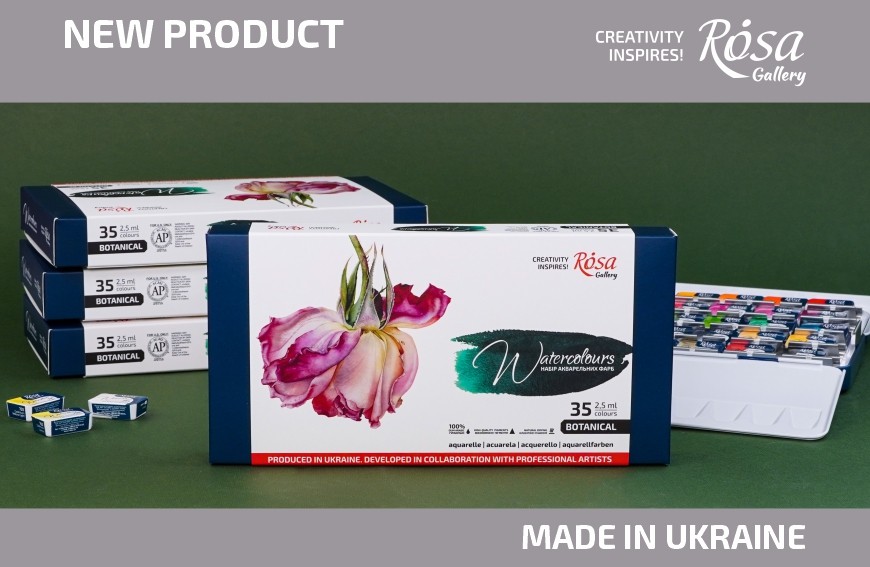 We present a new large set of ROSA Gallery professional Fine Art watercolour paints "BOTANICAL" of 35 colours in pans. The packaging of the set is decorated with the work of Ukrainian artist Olha Korniienko "Fading Rose", painted with watercolours from ROSA Gallery. The design depicts a luxurious pink rosebud with falling petals. You want to look leisurely at the colour transitions, and the bends of the yellowed petals. How much tenderness, weightlessness and natural beauty is in this fragile flower!
The palette of the new large set of 35 colours for creating botanical illustrations is formed on the basis of the familiar set of 28 colours and is supplemented with saturated colours important for botanical painting: Carmine, Quinacridone Purple, Ceruleum, Indigo, Aureolin, Madder brown, Mars brown.

All 35 watercolour colours are selected in the set according to the requirements of the technique and based on the colour range used by well-known specialized artists of Ukraine.
A set of Fine Art professional watercolour paints "BOTANICAL" of 35 colours is intended for connoisseurs of botanical illustration.
An airy, multi-layer botanical illustration requires high-quality watercolours and a careful selection of colours. Transparent single pigment colours in the set of ROSA Gallery Professional Artists' Watercolours Botanical for clean and predictable mixes.
Characteristics of the new set of ROSA Gallery professional watercolour paints in 35 colours:
• Organic gum arabic provides perfect
adhesion and even colour flow;
• High-quality organic and inorganic pigments guarantee purity and transparency of each colours;
• High pigment concentration supplies the artists with a wide range of colours: from airy transparent to full opaque;
• Natural drying providing easy dilution and brushing properties;
• Watercolor Cases ROSA Gallery are metal boxes with two palettes of different configurations. They have a special insert for the cuvette and a convenient finger holder on the bottom of the case, which makes it easy to hold the paint in a hand while working.
• Due to its small size, the case can be carried in a bag or sketchbook.
Thanks to a stylish wrapper design and a convenient metal case with palette lids, the ROSA Gallery "BOTANICAL" watercolour paints set will make an exquisite gift for a professional artist.