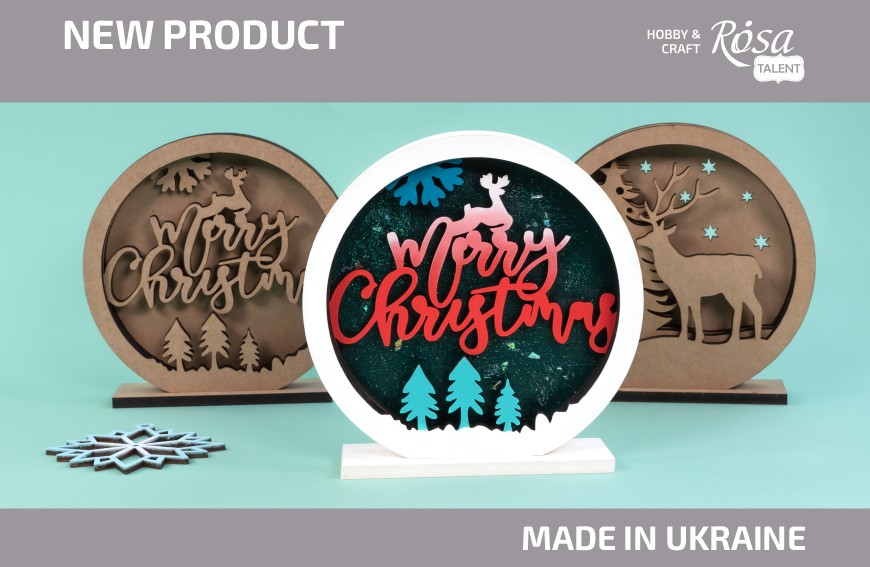 Christmas holidays are coming soon! Therefore, do not hesitate to create your holiday decor and get ready in advance.
Meet new Christmas blanks for decoration and stencils from ROSA TALENT for a festive mood, style, and comfort of your homes in the new year 2024!
We have prepared for you various types of blanks for decoration from ROSA TALENT made of plywood and MDF:
• 3D* tabletop compositions: a Christmas tree, a star, and a square will decorate a festive table or the interior of a home and an office.
• Sets of hanging blanks with Christmas motifs and the symbol of 2024 - the dragon will become original handmade decorations for the Christmas tree or a festive hall decor.

*3D blanks come with step-by-step instructions that will make it much easier and speed up the joining process.
ROSA TALENT blanks can be decorated in various techniques: decoupage, painting, contour drawing, potal covering, decor with textured pastes, sparkles and many others.
Self-adhesive stencils size A4 in the New Year and Christmas theme will help you create repetitive patterns on clothes, shopping bags, festive tablecloths, and napkins, on windows and mirrors:
• Christmas trees & houses, and winter landscapes are traditional Christmas symbols that will turn an ordinary box into an exclusive festive item.
• Background stencils "Snowflakes" will create an independent Christmas background on the item, or become the basis for making a multi-layer panel.
• The inscription "Merry Christmas" will allow you to sign the packaging for a gift beautifully and quickly.

ROSA TALENT self-adhesive stencils are suitable for working with acrylic and gouache paint, spray paint, paint for fabric, glass and ceramics, structural pastes, gels, gilding, markers, chalk, wax pencils, and more.And, importantly, they can be used many times, only after having them thoroughly cleaned of the residual material.
Traditional motifs, interesting designs of new blanks for decor, and stencils will create an unforgettable atmosphere for celebrating the New Year 2024. But do not forget about last year's collections, which have been relevant for more than one year!
Getting ready for the Christmas holidays with ROSA TALENT!