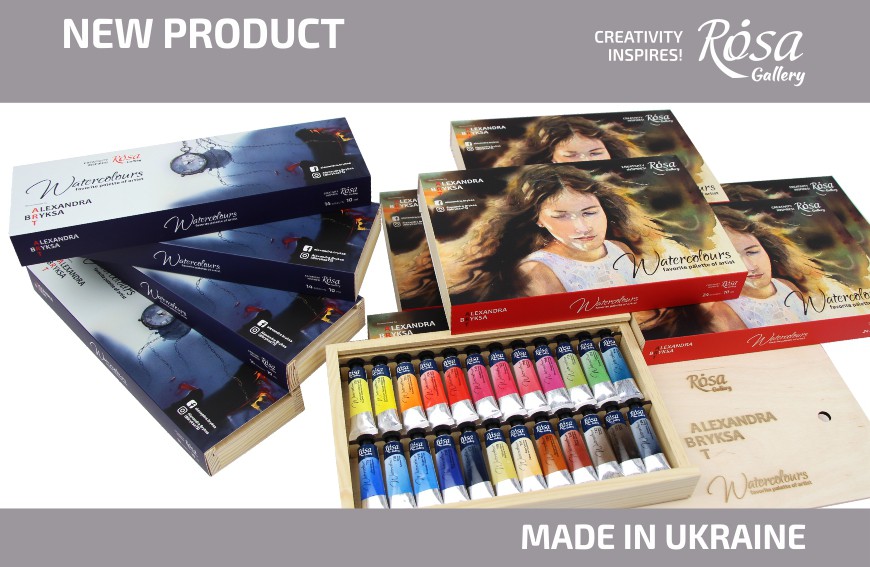 We present to you a set of professional ROSA Gallery watercolours with favorite palette by famous Ukrainian-Czech artist Alexandra Bryksa, leader of IWS Czech Republic.
Each artist's work is full of refined taste, special style, deep philosophy.
Luxury paintings from the latest collections have become the basis for the design of packaging sets of watercolors Alexandra Bryksa ART & ROSA. Gentle and romantic portrait of her daughter - "Spring Poem" and deeply symbolic work "Infinity" create a special atmosphere and transform sets into works of art.
Sets of professional watercolour paints Alexandra Bryksa ART & ROSA can be purchased exclusively from the artist, using the site www.alexandrabryksa.com
*14 Colors set in Tubes 10ml in wooden case
* 24 Colors set in Tubes 10ml in wooden case
The favourite of Alexandra Bryksa palette is Indigo. " This paint is very rich of excellent pigment which reflexes any expected achievements."
Carefully selected watercolour palette from Alexandra Bryksa is a perfect solution for artists who want to achieve high colouring, noble mixtures and convey the color depth, to create accents in their works.
Thanks to Alexandra Bryksa for collaboration, support and trust! We do appreciate it and with delight and inspiration build art history of Ukraine together!
For all who travel Czech Republic as well as for residents we recommend to visit the extraordinary personal exhibition of Alexandra in Strakonnicza, which will last up to 25.11.19.
We are delighted with the fantastic works, the stylish exposition of each collection and exclusive support of the event with unique brand things from the Alexandra Bryksa ART. Style and quality in everything, an example for all and enjoyment for the sensitive eye of artistic souls.
Dear Alexandra, congratulations on the opening of incredible exhibition and extraordinary projects, we wish you successful initiatives and achievements in all cases!