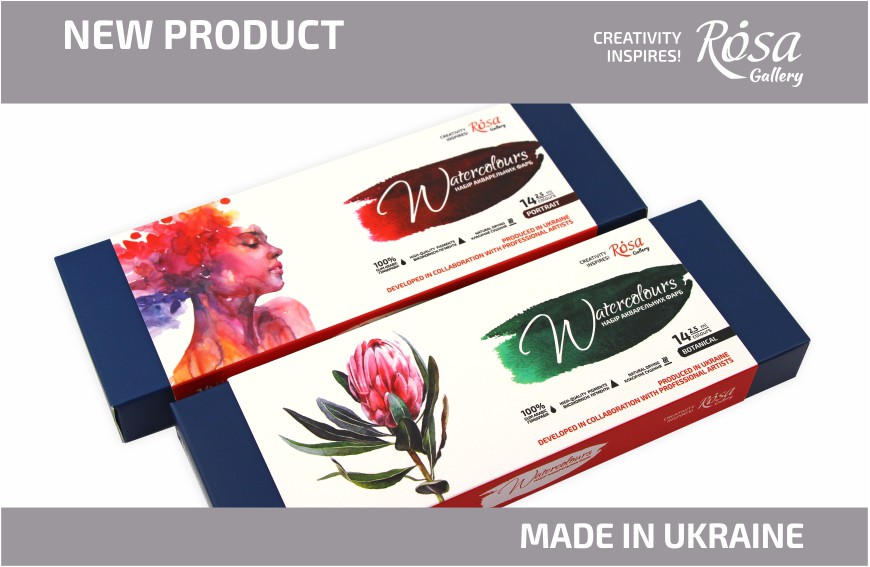 We are happy to present you new sets of ROSA Gallery professional watercolours in cuvettes for portrait artists and connoisseurs of botanical illustration.
Meet three special and unique sets of ROSA Gallery watercolours, which have been selected in accordance with the requirements of the technique and based on the colour scheme used by famous subject matter artists of Ukraine.
Sets of professional Botanical art watercolours of 14 and 28 colours are designed for lovers of botanical illustrations. An airy, multi-layer botanical illustration requires high-quality watercolours and a careful selection of colours. Transparent single pigment colours in the set of ROSA Gallery Professional Artists' Watercolours Botanical for clean and predictable mixes.

Set of professional Portrait ROSA Gallery Artists' Watercolours is consists of colours that allow you to get a wide palette for human body painting. The majority of the colours being single pigment enable us to obtain numerous amazing pure shades when the colours are mixed.
Characteristics of professional ROSA Gallery watercolor paints in sets:
• Organic gumarabic provides perfect adhesion and even colour flow
• High-quality organic and inorganic pigments guarantee purity and transparency of each colours
• High pigment concentration supplies the artists with a wide range of colours: from airy transparent to full opaque
• Natural drying providing easy dilution and brushing properties
• Two palettes of different configurations are embedded in a metal case. The set is easy to hold. It has special insert with tight pan clamps and a thumb tab.
• Due to its small size the cases are easy to transport in a bag or a sketchbox easel.
Thanks to the stylish design of the wrapper and a metal case with a lid-palette, ROSA Gallery watercolours sets in cuvettes will become an exquisite gift for a professional artist.
Read more: