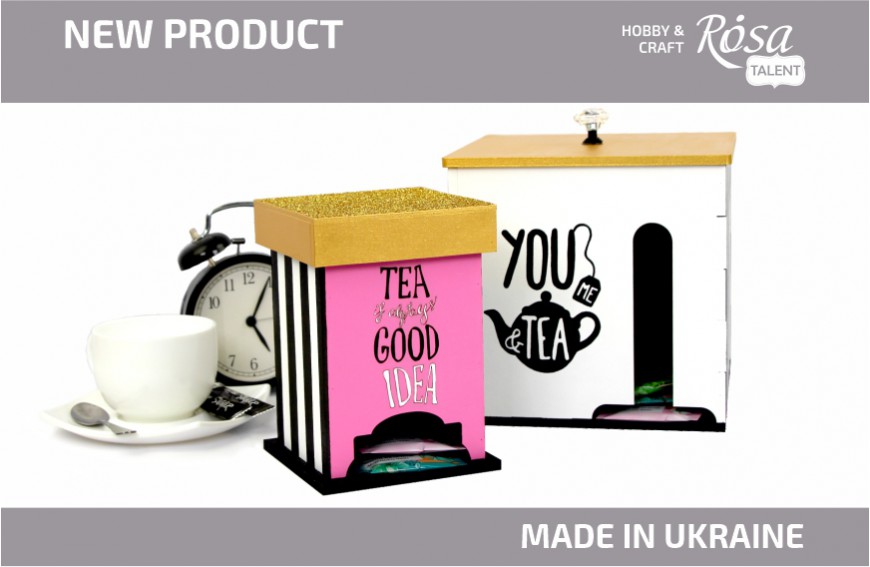 We are glad to present you a novelty from ROSA TALENT - tea organizers of various sizes and designs.
From now on, your favorite tea bags will be put up, sorted, and stylishly placed on the kitchen table. This is especially convenient in the case of assorted tea - the right tea bag can be found in seconds. This kind of organizer is not only a practical thing but also a decoration, an addition to the interior of your kitchen. Tea organizers are very popular as blanks for decoration or decoupage, do not concede the boxes and chests with drawers.
Choose the shape and model you like and the size you need:
• With drawers
• Compartments with hinged lid
• Classic models

Thanks to the smooth, even surface, tea organizers can be easily decorated in various techniques: painting, decoupage, craquelure, marbling, gilding, etc. If the organizer is actively used in everyday life, we recommend covering the surface with acrylic varnish to preserve its original appearance for a long time.
Properties of chests with drawers for tea from ROSA TALENT:
• Durable MDF material - holds the structure well
• Smooth MDF surface - easy to decorate
• Interesting and practical designs of organizers
• Different sizes and options of compartments
Tea organizers from ROSA TALENT will be a special decoration of the kitchen, refresh the interior, decorate your tea ceremonies.