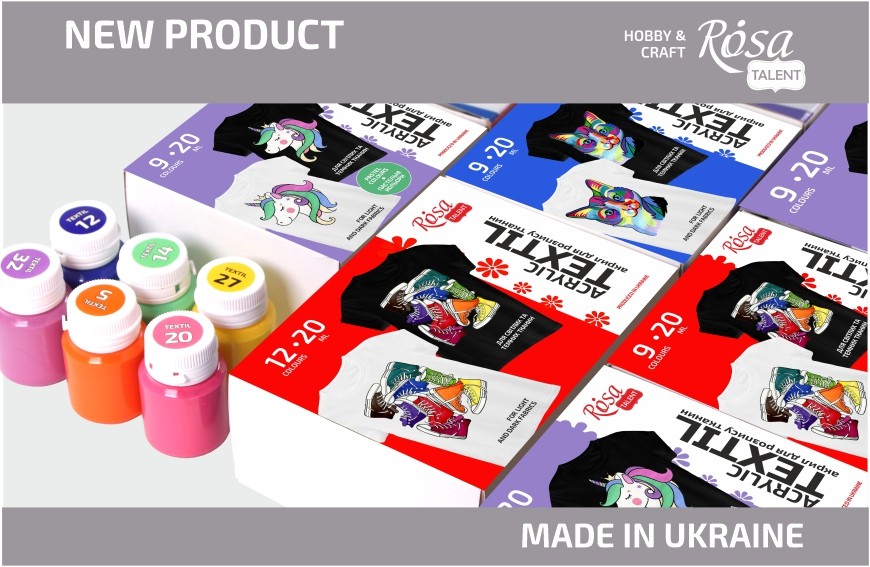 New sets of acrylic paints on fabric from ROSA TALENT are a real find for those who want to try their hand at the technique for the first time, but can not decide on the colours for the first purchase.
Harmoniously selected colours and stylish packaging is a great gift for a creative person.
Sets that are already available for order:
UNICORN - 9 * 20ml. Delicate pastel colours that are perfect for depicting flowers, and painting children's clothes. Soft shades perfectly go together, as well as with white colour. A combination of pastel tones with a more saturated shade of its colour will look great.
STYLE - 9*20 ml. Bright, bold colours to create modern youth motifs.
Stay tuned for more new sets coming soon:
STYLE - 12*20ml, 18*20ml for creating bold, colourful motifs.
CAT - 18*20 ml contains a bright, saturated basic classic palette of colours, which are ideal both for use in their pure form and for creating many shades in mixtures for painting any clothing.
HEART - 12 * 20 (+2 metallic), 24 * 20 (+2 metallic) Along with the basic colours, the sets include 2 metallics, which will add sophistication to the painting and help to set accents.

Emphasize your individuality with hand-painted clothes or accessories. If you want to create a unique painted item, but do not have experience in painting - use ROSA TALENT reusable self-adhesive stencils. Denim jackets, T-shirts, eco-bags, and sneakers - easily turn into a unique stylish thing with the use of acrylic on fabrics ROSA TALENT.
ROSA TALENT acrylic paints on fabric are ideal for painting light and dark fabrics of various compositions, including leather and suede. They are elastic after drying and do not excessively thicken the fabric. Bright and saturated colours of paints mix well with each other, forming new desired shades. Thanks to the homogeneous consistency, the paint is applied evenly to the fabric and does not bleed, so it is convenient for stencil application.
Main characteristics:
• 7 sets of 9, 12, 18, and 24 colours of 20 ml each;
• Opaque - suitable for painting light and dark fabrics;
• Paint is applied and spread equally well on natural and synthetic fabrics;
• The paint withstands hand and machine washing in the appropriate mode.
Create incredible patterns on clothes with fabric painting acrylic from ROSA TALENT! Stand out and inspire!