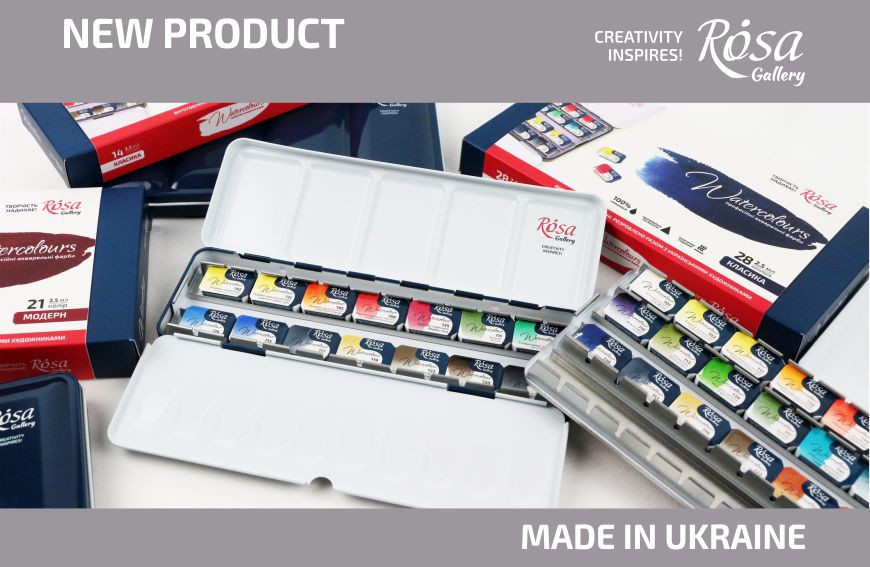 For greater convenience in working with watercolors paints ROSA from now on we offer them to you in sets, in metal cases. Thanks to its small size and comfortable design, it is possible to carry the kits in a bag or etiudon and use it conveniently on the plein air. Two palettes of different configurations, a special insert for the cuvette, and a convenient fingernail holder are built into the pen holder, which makes it easy to hold the kit while it's working.
The main characteristics of professional watercolor paints ROSA Gallery:
- Organic gum arabic provides perfect adhesion and even colour flow
- Natural and inorganic pigments of each color are selected taking into consideration the expectations of professional artists
- High-quality finely ground pigments guarantee purity and transparency of colors
- High pigment concentration supplies the artists with a wide range of colour: from airy transparent to full opaque
- Traditional technique of natural drying of the watercolor provides easy dilution and brushing properties.
Sets of watercolor paints CLASSIC

This set is perfect for traditional watercolor techniques. Most colors are single pigment providing the opportunity to create pure tints when mixed.
Available sets:
- 14 basic colors
For art lovers who prefer classic palette. 
- 21 colors
Extended basic colors palette. The case allows you to add 7 favorite colors not included into the set.
- 28 colors
The set consists of large range of classic and unique colors enabling artists to experiment and discover new mixes and shades.
Sets of watercolor paints MODERN 
This set is the best choice for the artists and illustrators who want to add expression and unique style to their works.
Unique colours ROSA Gallery are combined with classic basic colors giving them shine, dynamics and resulting in new interesting mixes.
Available set:
- 21 colors. The case allows you to add 7 favorite colors not included into the set.
ROSA Gallery Watercolor Paints are designed for professional fine art taking into consideration all the requirements and recommendations of the professional artists.