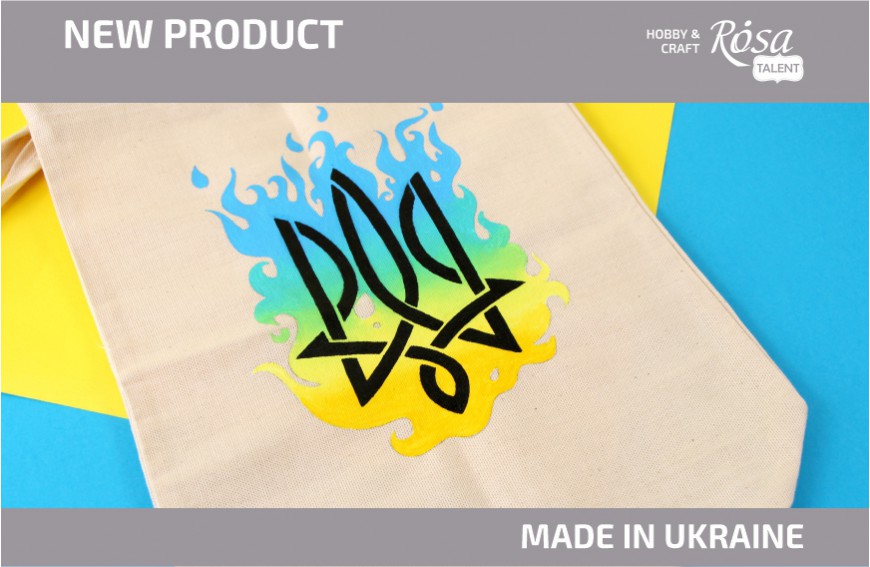 With Ukraine in the heart!
At such a difficult time for our state, we have created for you a patriotic collection of stencils from ROSA TALENT! With their help, you can decorate a T-shirt, eco bag, jeans or sweatshirt and express your position and tell the world: "I am Ukrainian and I am proud of it!"
Motifs:
Inscriptions. Popular Ukrainian inscriptions and slogans in different fonts will allow you to create a patriotic inscription on an item easily, quickly, and of high quality. "Good evening! We are from Ukraine!" - a world-famous phrase will now adorn your T-shirt or sweatshirt.
Elements. Cossack with a sword, sunflower, dove of peace, and trident in several versions - the main Ukrainian symbols that will give the product a patriotic mood. We are sure that this clothing will be special for everyone and will be worn with pride for many years.

Due to the high-quality adhesive base, the stencils perfectly adhere to various types of surfaces: fabric, glass, wood, paper, canvas-based, do not allow the paint to bleed underneath and do not leave traces of glue. And, what is important, they can be used many times, only clean them thoroughly of the materials that were applied.
Self-adhesive stencils ROSA TALENT are suitable for working with acrylics and gouache paints, spray paints, fabrics paint, glass and ceramic paint, structure pastes, gels, gilding, markers, chalk, wax crayons, and others. The creation of decor using ROSA TALENT stencils turns into an easy and fun process.
Characteristics of the new ROSA TALENT reusable self-adhesive stencils:
• 18 new motifs of the patriotic series;
• Reusable strong adhesive layer;
• The stencil fits snugly to the surface, keeps the pattern from paint bleeding;
• For decorating various types of surfaces.
Self-adhesive stencils ROSA TALENT are an ideal solution in the work of interior decorators, handicraft lovers, scrapbookers, a wonderful helper for students and schoolchildren, an extremely convenient material for decorating together with children.